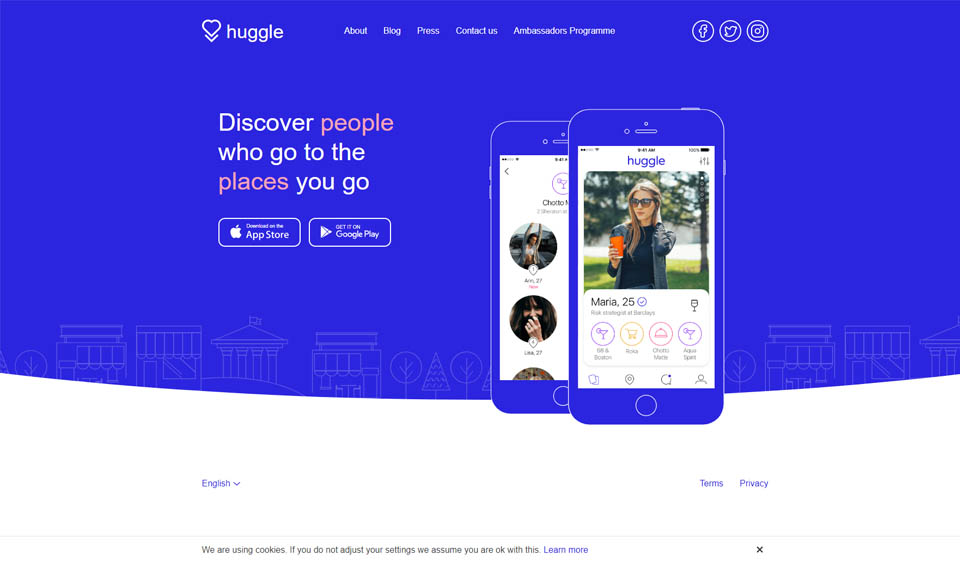 Going out together
Huggle is a location-based online dating platform. It offers you new connections with people who frequent the same places as you. The app was created in 2015 by Valerie Stark and Stina Sanders with the goal of making it easy to meet new people in places you frequently visit.
After several tests, Huggle was launched in July 2016 and later integrated into the online dating company Badoo. If you are looking to expand your circle of acquaintances in your neighborhood or city, this app can be a great option.
Why use Huggle?
To meet new people in the places you frequent
To expand your network of acquaintances in your city or neighborhood
Easy to use and free
Average age
23-38 years old
More
Huggle is a free application.
It offers a simple match based on geolocation and age.
Matches are available to meet in person.
Member profiles are authentic and live and work in your area.
A team of moderators performs thorough checks.
Huggle focuses on forming friendships, with dating being an added bonus.
Less
Huggle limits your meetings according to the population density of your region - plethora of partners in cities, less in remote rural areas.
No criteria other than thegeographical location cannot be defined for the profile search.
If you are a slider As an avid skater, you probably hang out at the local rink with other skating enthusiasts. The sliders will show up in your matches because they visit the same site as you.