You have created a Meetic account, but can't log in?
If you are having trouble logging into your account, you'll be happy to know that there are solutions in most cases!

In this article, we will see the many reasons that make it impossible to access your account and, above all, how to correct them!
Why can't I (open) my account?
This is usually due to a connection problem on your side or on the Meetic platform itself.

Here are some of the reasons why you can't connect:
Internet connection problem
Your connection may be one of the reasons why you can't log in.
Make sure you are connected to the Internet and that other websites are working without problems. Try to access Google or YouTube for example.
If this doesn't work, unplug and reconnect your Internet box or switch to a mobile connection (4G/5G) using a shared connection for example.
Registration not validated by email
After creating your account, a confirmation email should be sent to you to activate your account.
Check your emails for the confirmation email of Meetic and click on the validation link.
If the email is not in your inbox, check your junk mail/spam.
If even here you can't find this confirmation email, a problem has occurred: ask again for a validation code on the site or contact the Meetic platform to solve the problem.
Incorrect login information (username, email, or password)
Make sure that the credentials you entered when you logged in to your account are correct.
If you do not remember your password, help is available to reset your password with your email account:
It is enough to click on the link "Forgot your password? to access the form to enter your email.
Next, a link to change your password is sent to your mailbox informed.
All you have to do is click on this link and set a new password !
Violation of the terms and conditions of use
Your non-login to your account may come from the moderation teams of the Meetic platform.
If your account does not meet the terms and conditions, your account may be suspended or deleted.

Here are some reasons why your account may have been suspended:
Insults or harassment to other users of the platform
Obscene content on your profile or sent via private messaging
Fake" account with photos that are not yours
Attempted scam
In these cases, an email from Meetic is then sent to you concerning the violation of their general conditions of use.
Bug and unavailability of Meetic
The impossibility to connect to your account can also come from a bug of the Meetic platform itself.

We invite you to contact the platform on the Meetic help pageor contact them directly by phone at 0806 600 002.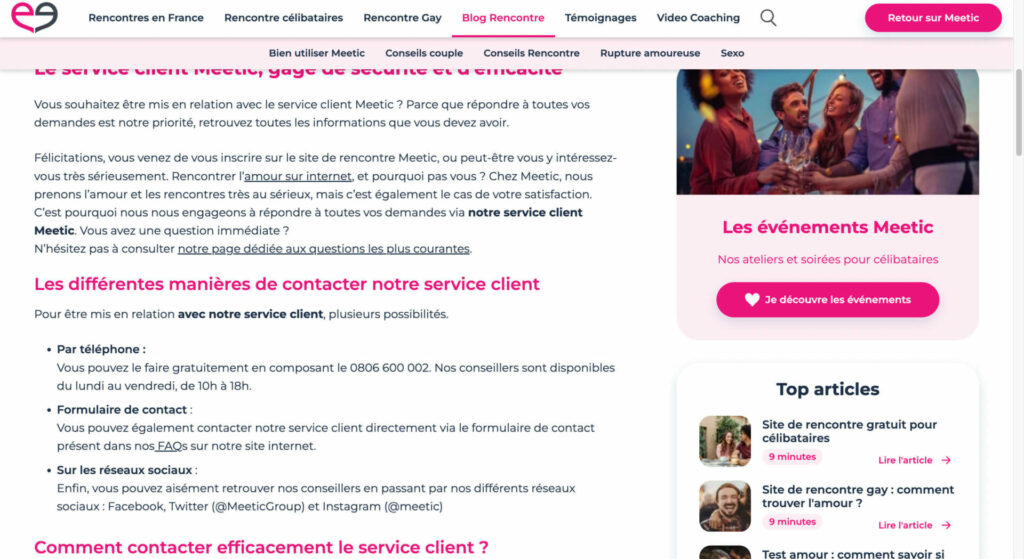 How do I get to my Meetic account?
To connect to your Meetic account, here are the steps to follow:
Open the Meetic application, or the site on your computer (https://www.meetic.fr/)
Click on "Getting Connected" then enter the email address and password associated with your Meetic account
You are now connected to your account : enjoy and flirt well !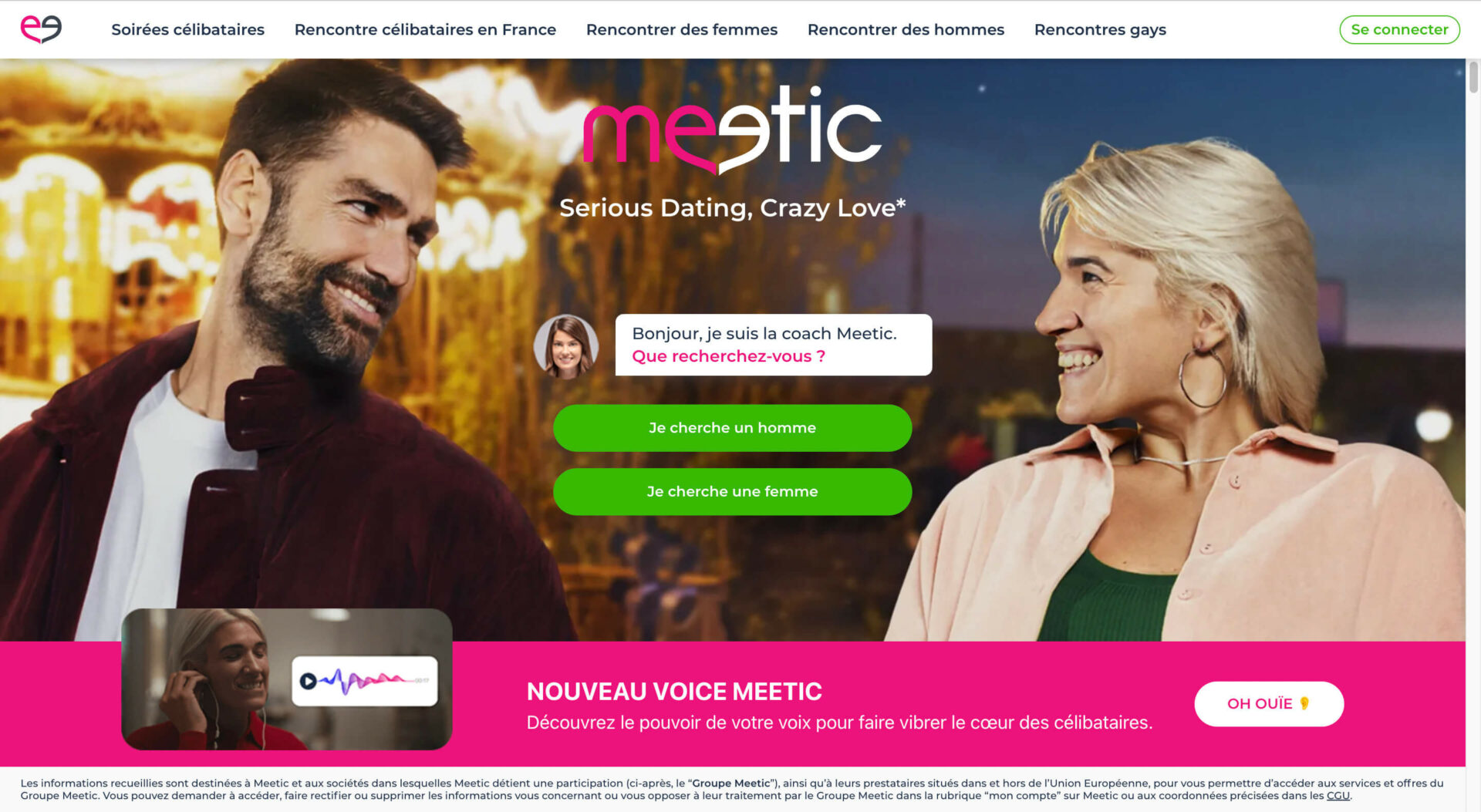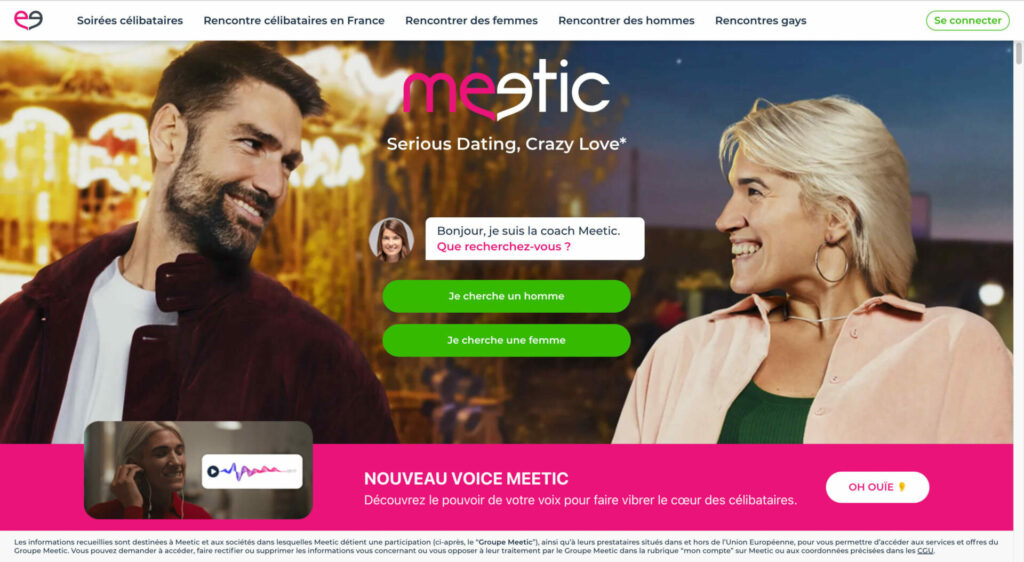 How to find your connection information on Meetic?
If you can't remember your password for your Meetic account, just :
Reset your password by clicking on " Forgot your password? "when logging in
An email is then sent to you to change your password: click on the link provided in the email
Change your password then log in to your account
If a problem persists, please contact the Meetic help teams
Unable to connect to Meetic? We have the solution!
Now that you know why you can't log in to your account, first check to see if the problem is with your internet connection, or your credentials.
If the problem is quite different, we invite you to contact the platform on the Meetic help pageor contact them directly by phone at 0806 600 002.