If you have a Meetic account, you may have seen some symbols displayed on certain profiles. Strange, isn't it? What do they mean? What's their purpose?

Learn more about the badges and symbols that entitle you to a special profile on the platform: an encircled profile photo!
What is an encircled profile on Meetic?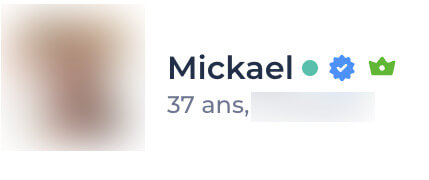 A circled profile is a profile with badges and symbols assigned to it. There are several symbols on the Meetic platform.
They are a guarantee of a serious and qualified profile, so that other users will spot that the profile is a real one.
Here are the types of badges you'll find on men's profiles mainly:
Badge,
Green crown,
Padlock.
The different types of encircled profiles
Crown
The green crown on some profiles shows that the person has a premium pass. This person has paid for a premium subscription, in order to have more functionalities. For example, it is possible to contact all members, or to set up a new account.who read his private messagesand many other advantages.
Badge
Gentlemen, this badge is for you The Meetic badge is a guarantee of seriousness for a profile. It's like a certification to let other members know that you're not a fake.
To obtain it, you need to meet certain specific criteria:
Profile completed at least 70 %
A photo validated by Meetic's moderation teams
Have signed the "Single Gentleman's Charter".
Have viewed the Meetic tutorials
Ladies, you can then recommend a profile with a badge by leaving comments.
Lock on Meetic profile
You may also encounter the lock symbol on Meetic which means that the profile is locked.

There are several reasons why this padlock may appear:
Profile reported by another user
The person has sent inappropriate messages
The person has not been active for a very long time
Person you blocked yourself
It is possible that this type of lock prevents the user from connecting to the platform.
Profiles surrounded by badges, crowns and padlocks on Meetic: you know what to expect!
Do you want a profile that gives others confidence? Get badges and symbols that generate confidence in others, like the green crown, or the Meetic badge for men.
A profile is a complete profile, with an eye-catching bio, and a photo of you au naturel, be yourself!
Be careful not to decorate your profile with a padlock: this could mean that your account has been blocked or suspended.