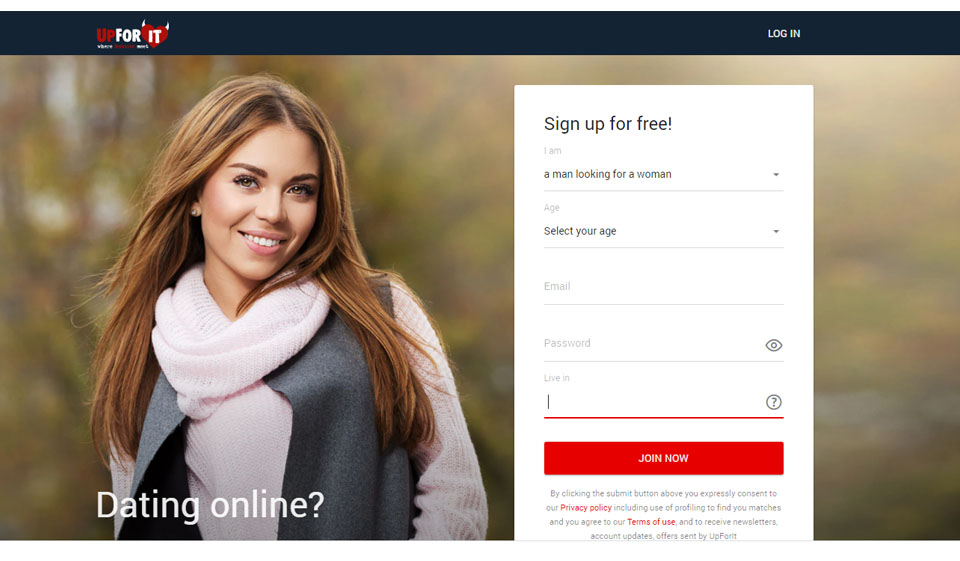 Going out together
UpForIt is an online dating site that aims to meet the needs of singles around the world. This site is for people who are looking for a romantic or casual relationship. If you are looking for a serious and lasting relationship, this may not be the right site for you. In fact, UpForIt is more for people who are looking for a bit of fun and pleasure without the headaches. If you're more on the "adult" side of dating and looking to connect with like-minded people, UpForIt might be the dating site for you.
Why register on UpForIt?
To meet like-minded people and interests
To find a partner for a romantic or casual relationship
To enjoy a secure and reliable online dating platform
UpForIt is an international online dating site with millions of active members. If you are looking for a fun and relaxed relationship, don't hesitate to sign up now and discover all that UpForIt has to offer.
Average age
24-39 years old
More
Free account UpForIt: UpForIt allows you to create a free user account and take advantage of some of the site's features, such as viewing profiles, adding members to your favorites list and sending winks. You can also send five free messages to members with a free account.
Interactive features UpForIt: UpForIt offers several creative ways to interact with other members, such as sending winks, site chat, flirtcast, video chat, and more. These features ensure an interactive, fun and safe dating experience.
Calendar tool The site's calendar tool, called Meet me today, allows users to arrange appointments and meetings with UpForIt members on the road.
Mobile application UpForIt's mobile application allows users to access the site's services at any time. It is loaded with the same features as the web version and offers an excellent online dating experience. The mobile version of the site is also fast and easy to use.
Support system UpForIt monitors messages to protect users from threats, harassment and spam profiles, and allows users to block these accounts.
Less
Unverified accounts: There are too many fake accounts on the site, which are either fake or spam. These unverified accounts disrupt the overall online dating experience of the site.
Pop-ups: The page inviting to upgrade to a premium membership appears regularly when a user has exhausted the limit of free membership tools and features, which can sometimes be annoying. However, you can avoid these pop-ups by simply upgrading your membership plan.
Cancelling a subscription: Canceling your UpForIt subscription can be a tedious process as the cancellation request takes a few days to be approved. Therefore, it is recommended to submit the subscription cancellation request well before the subscription expiration date.