Notice
I am delighted to share my experience with Instasexan intimate dating site that I tried recently. Registration was fairly easy and intuitive, with a simple online process that allowed me to create a profile in just a few minutes. The site has a clean, modern design, which immediately made me want to check out the features offered.
However, I was quickly disappointed to find out that without a subscription, I could not enjoy the basic features of any dating site! Indeed, without a subscription, it was impossible to see the photos of the other members or to read the messages that I was sent! This restriction has considerably limited my experience and has created a certain frustration. I think it's a pity, because the site offers interesting features, but their accessibility is really limited for users who don't want to pay.
In the end, without a subscription, I can't recommend Instasex to other people. Although the site has good potential, it is absolutely useless without a subscription. I would have liked the basic features to be available for free, to allow users to get a better idea of the site before subscribing. I think that the proposed subscriptions are quite expensive and are not justified by the proposed features.
Overall, I hope the site can revise its subscription policy in the future to provide a more enjoyable and fair experience for all users!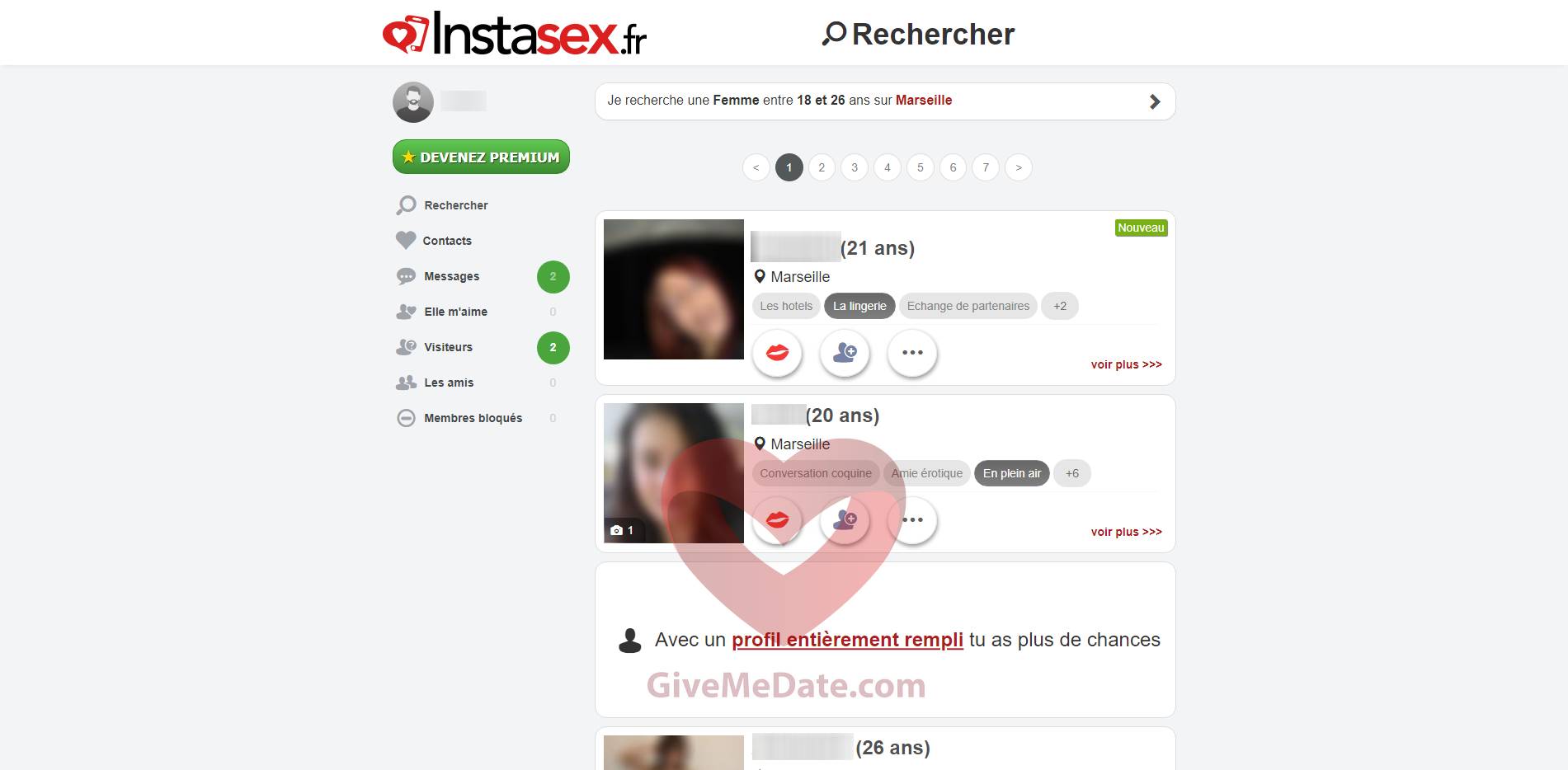 Presentation
Instasex is an intimate dating site based on the sending of naughty pictures and text messages between its members. The site is designed to provide a fun and exciting experience for people looking to explore their naughty and sensual side. Features include the ability to take and send photos, chat live with other members and share intimate moments safely.
It should be noted that Instasex is not really for people who are looking for a long and serious relationship. The site has been created to meet the needs of people seeking an ephemeral and exciting experience, with no long term commitment. Members are invited to explore their fantasies and desires with other like-minded individuals in a discreet and secure environment.
However, to take full advantage of the features offered by InstasexA subscription is required. Without a subscription, members have access to a limited number of features, which greatly limits the user experience. The proposed subscriptions are available at different rates depending on the duration of the subscription and the features available.
In conclusion, Instasex is an intimate dating site designed for people looking for a fun and sensual experience with no long term commitment. Although it is not intended for people looking for a serious relationship, it offers a unique experience to explore your sensuality and fantasies. Nevertheless, to fully enjoy the features offered, a subscription is necessary.
Promo Code
It is unfortunate that Instasex, an intimate dating site I recently discovered, does not accept promo codes. Being able to get a discount could encourage more people to subscribe and thus take full advantage of the site's features!
Indeed, the subscription is essential to be able to communicate with the other members of the platform and to benefit from all the features offered by Instasex. That's why it would be really convenient to be able to use promo codes to reduce the cost of the subscription. I hope that theInstasex will consider this option in the future to provide an even more engaging experience for its users.
Subscriptions
On InstasexThe subscription is essential to fully enjoy the site. Without it, many of the basic options and features of a dating site will be inaccessible to you!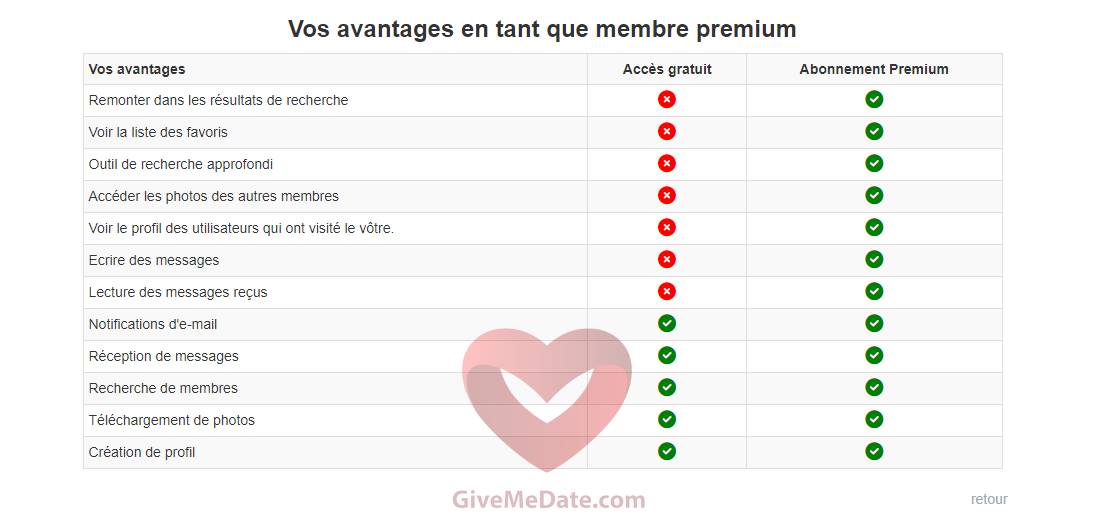 In addition, it guarantees you an ass or refund!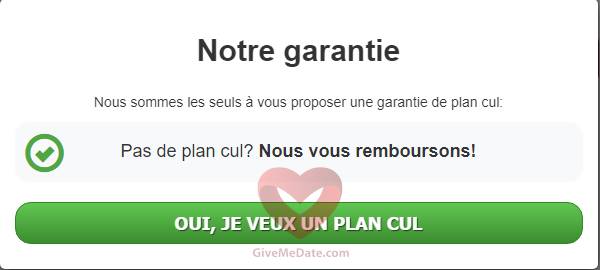 The prices
| | | | |
| --- | --- | --- | --- |
| | Input | Best seller | Deluxe |
| Duration | 1 month | 3 months | 6 months |
| Price | 39,90 € | 39,90 € → 29,90 € | 24,90 € |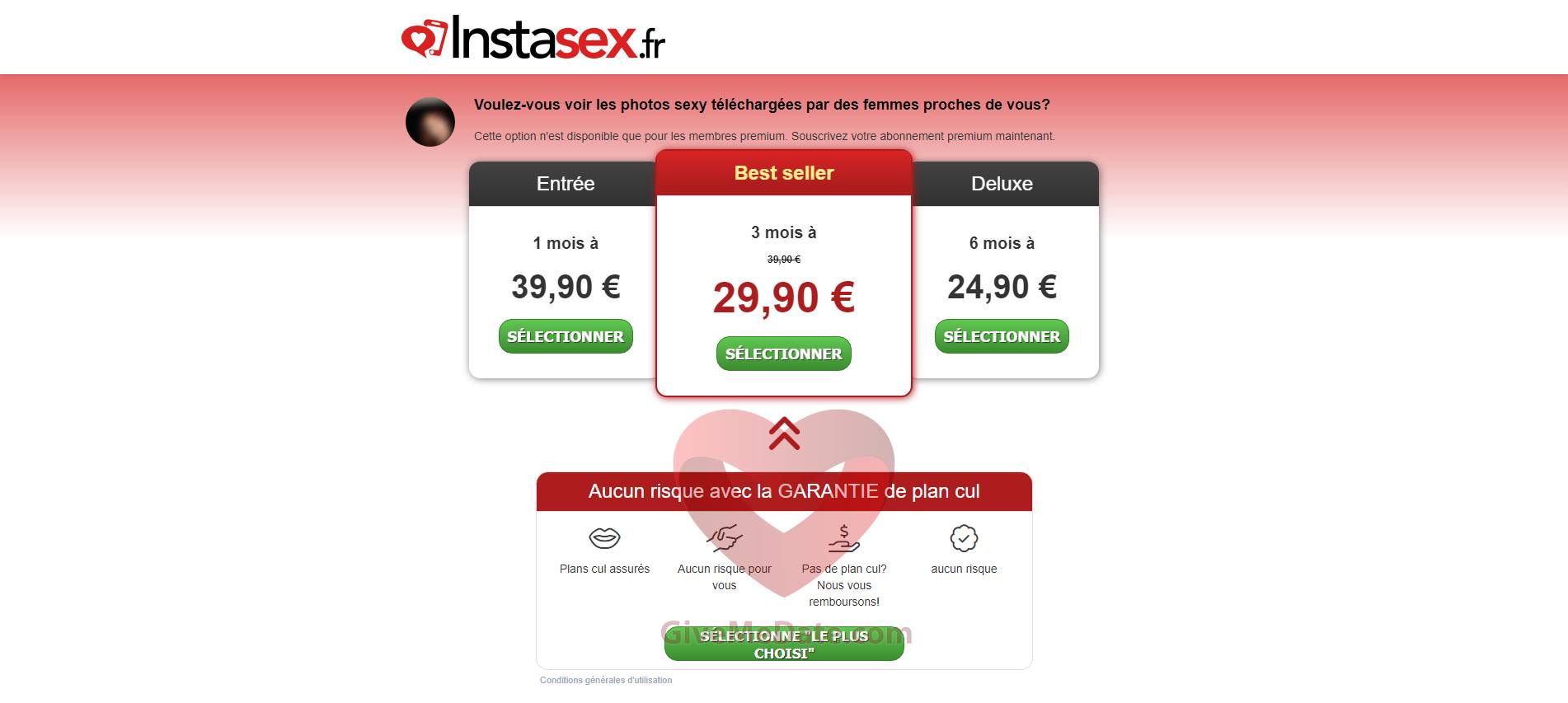 Features
Contacts
I loved this featureIn this section, you will be offered profile photos, corresponding to you, and with the help of two buttons (a cross and a heart), you must say which profiles do not interest you and which ones do.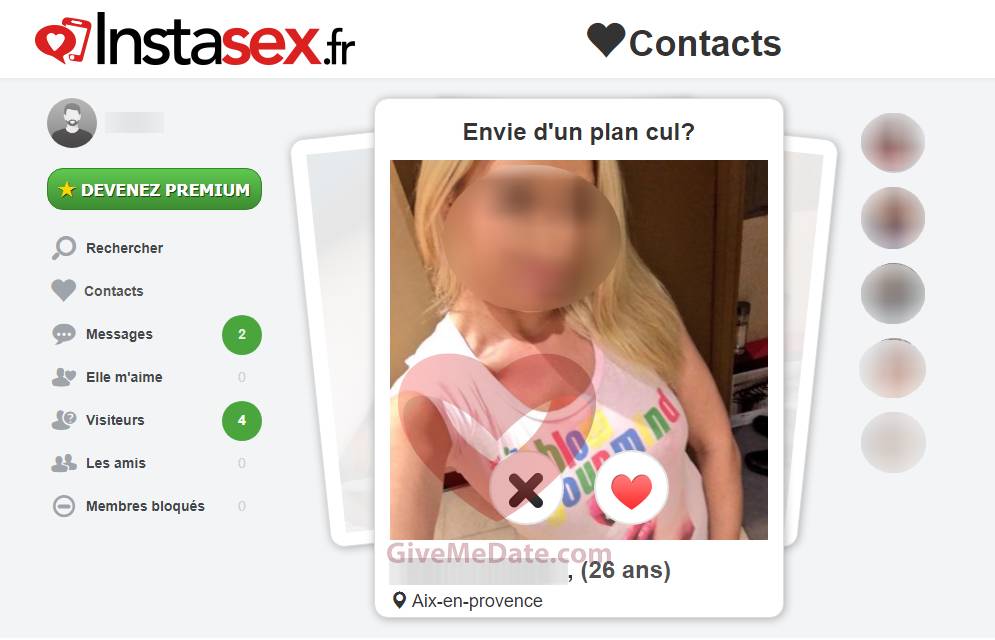 Messages
" Messages "This is a feature that you will quickly learn about! Indeed, if you have not taken the subscription, you will receive the notification of the received messages, but you will not be able to read them nor to answer!
It is not possible to enjoy this site in such conditions!
She loves me
This feature allows you to see the list of profiles that have given you a "like". A quick and efficient way to see who found you interesting, to potentially send them the first message!
Visitors
I don't have any information about this feature, as it requires a subscription. It's a real shame!
The friends
In this tab, you can see the people you have bookmarked.
It's good if you want to remember the profiles you found interesting
Blocked members
This feature allows you to group together members that you have blocked.
A profile has unpleasant or aggressive words? To block it, click on the small arrow of the profile and select " block the member ".
Social Networks & Contact
Unfortunately, Instasex has no social network.
However, if you have a problem or a question, you can find the answer in their FAQ. To access it, go to any page ofInstasexscroll to the bottom and click on " Assistance ".
The questions are grouped into 4 different categories:
Subscription
The premium subscription
Payment
Other
Mobile application
I am disappointed thatInstasexan intimate dating site, does not have a mobile application. An application would allow users to communicate with other members of the platform from anywhere at any time, which would be especially convenient for taking and sending photos in real time.
I hope that theInstasex will consider developing a mobile application in the future!
FAQ
Is Instasex free?
Yes, but unlike other dating sites, where without a paid subscription you can still send and receive messages. On InstasexYou are very limited, you can't see the profile of other members, nor read the messages they sent you.
How do I register with Instasex?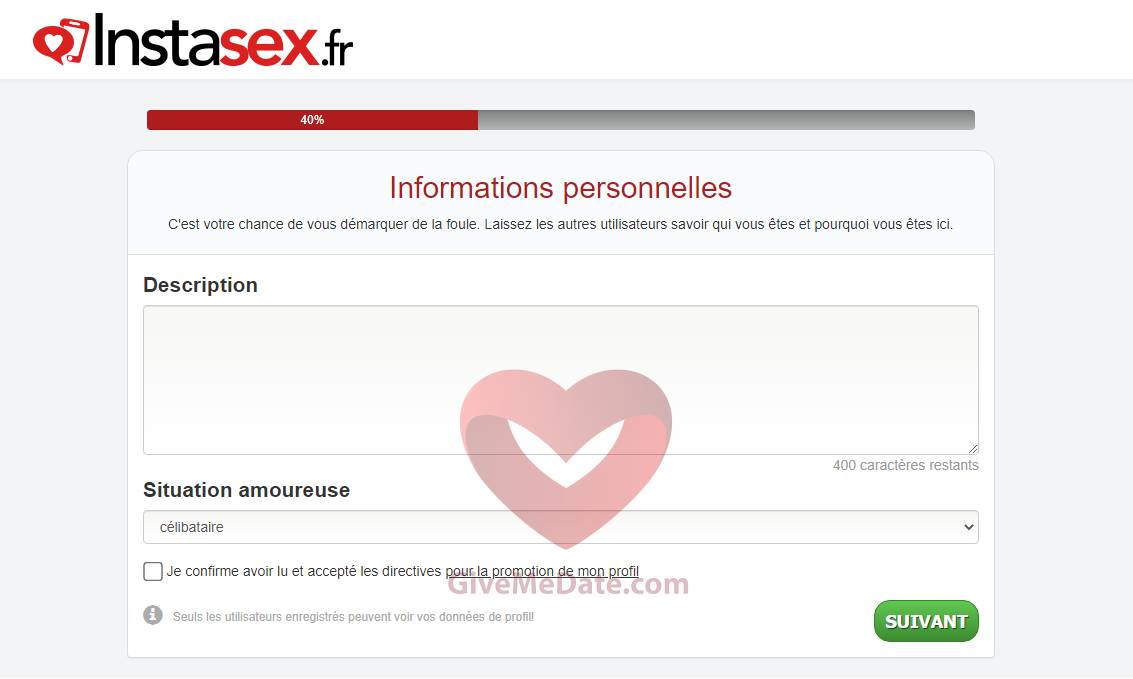 There are a few steps to follow to register:
1. Go to the internet and type " Instasex "in the search bar
2. On the home page, choose your gender, then your date of birth, then your email address
3. Go to your email inbox, and click on the activation link sent by Instasex
4. Finally, you must finalize your profile by indicating your interests, personal information, appearance and put a photo of you.
How do I unsubscribe from Instasex?
To unsubscribe fromInstasexyou must:
1. Go to the FAQ of the site
2. In the Subscription category, press "How do I delete my profile?"
3. You will see a "here" that will be red, click on it then confirm your choice by clicking on "Do you really want to delete your profile".
You are now unsubscribed fromInstasex !