That was back in 2000, when the libertine network NetEchangisme, or "Netech", took its first steps on the web. Even today, as I speak to you, this site remains a pillar of swinging and mixing, standing the test of time.
NetEchangisme, one of the pioneers in the field, quickly established itself as an essential reference point in the swingers and mixers landscape on the web. Its meteoric growth right from the start was the sign of a resounding success, like a shooting star in the midnight sky.
But as you surely know, innovation never rests. Just as a concept becomes successful, challengers emerge, ready to make their mark. I'm thinking of NousLibertins, Place Libertine, Libertic... And what other sites come to mind?
This ferment of creativity has enabled libertine platforms to expand, diversify and offer fascinating new features, such as webcams.. What an exciting time to be alive, isn't it?
However, over the years, Netechangisme has kept pace with the latest trends and has undergone a beautiful metamorphosis to become " Wyylde ". It's like a 2.0 version of the old platform, renovated, improved and sublimated. If you are swinging enthusiast and libertinage, you're going to love these new features. It's like finding an old friend who's had a makeover, making himself even more attractive and fascinating.
So, are you ready to explore this new era of libertinage with me? You won't regret it, I promise.
My review of Netechangisme
I still remember the days when Netchangisme dominated the French swinger scene. Its prestige was well-deserved, but competition was beginning to make itself felt. It had become necessary to innovate, to offer something new..
This is where the importance of our community really came into its own. Thanks to it, we have been able to move serenely towards Wyyldewhich has rapidly established itself as a major player in the world of liberty. Wyylde is the epitome of excellence, a bold turnaround that has retained the original spirit of NetEchangisme while offering new perspectives. I'm sure you'll appreciate this new version as much as I do. Let's explore these new territories of freedom together!
What made Netechangisme the libertine site par excellence?
Well, NetEchangisme managed to get the better of its rivals, who were relatively few in number at the time.thanks to its pioneering position in the world of online swingers. It has offered its members a platform that is both modern and user-friendly, a combination that is sometimes lacking on other libertine sites.
Promo code Netechangisme
I know you love coupon codes! Unfortunately, there are no Netechangisme promo codes available at the moment. (See our article on promo codes!)
That said, check the NetEchangisme site or other coupon code sites regularly.. If you find one, simply enter it in the dedicated box when you register or purchase a subscription. Good luck in your search!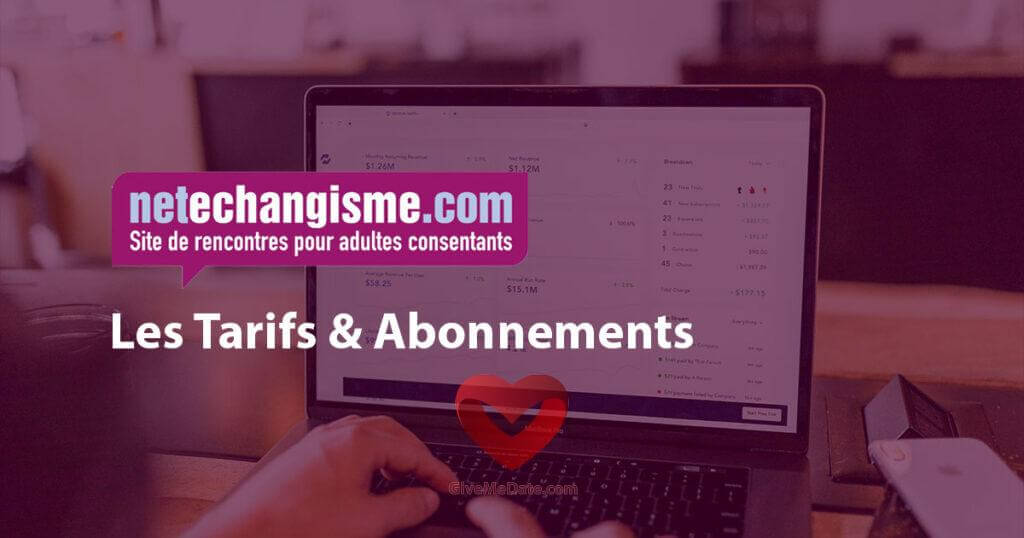 Netechangisme : Rates and subscription prices

Registration is free on NetEchangisme! This gives you access to some of the site's basic features. To create an account, you'll need to provide a few basic details, such as your username, e-mail address and dating preferences.
The advantage of free registration is that you can discover the interface and how the site works at no cost. It also allows you to browse other members' profiles and to start interacting with them!
However, it's important to note that free membership does have its limitations. As a free member, you may face certain restrictions regarding the site's advanced features, such as unlimited private messaging or access to certain private chat rooms.
If you want to take full advantage of all the features NetEchangisme has to offer, you have the option of taking out a paid subscription. This will give you full access to the site's services, allowing you to interact freely with other members and increase your number of sexual encounters.
Here is a table summarizing the subscription offers:
| | | | |
| --- | --- | --- | --- |
| The offer | The price | Duration | Bonuses |
| Registration Men & Women | Free | unlimited | No bonus |
| Gold Account 1 month | 9.90/month | 1 month | No bonus |
| Gold Account 3 months | 7.33 / month | 3 months | 30% reduction |
| 12-month Gold Account | 4,99€ : MONTHLY | 12 months (1 year) | 50% discount |
NetEchangisme features
I'm going to introduce you to the features of NetEchangisme, which, even in its day, was already very innovative:
The profile search system allows you to quickly identify people who match your expectations. So you can find libertines who share the same passions as you.
Thanks to instant messagingyou can send private messages to other members. It's an excellent way of exchanging confidential information and preparing for a libertine encounter in a swingers' club, for example.
You can easily find a swingers club that's right for you using the interactive map of the site. This allows you to find exciting places where you can have the time of your life.
To enrich your profile and show off your naughty side, you have the option ofadd photos and videosand even publish comments on profiles of other members. This creates a more intimate bond with the libertine community.
The statistical and research toolssuch that geolocationare ideal for meet libertines near you. So you can arrange appointments more easily without having to travel long distances.
To get to know each other better and create a warmer atmosphere before a meeting, you can chat via live webcam or in a private room with other members. This helps break the ice and establish deeper bonds with other libertines.
These features have made Netech an avant-garde swingers site in its day, and have helped create a dynamic and passionate community. You can take advantage of these tools to enjoy unforgettable experiences in the world of libertinism and swinging. So don't hesitate to explore these features to spice up your libertine life, as they're designed to help you find exciting encounters and shared pleasures!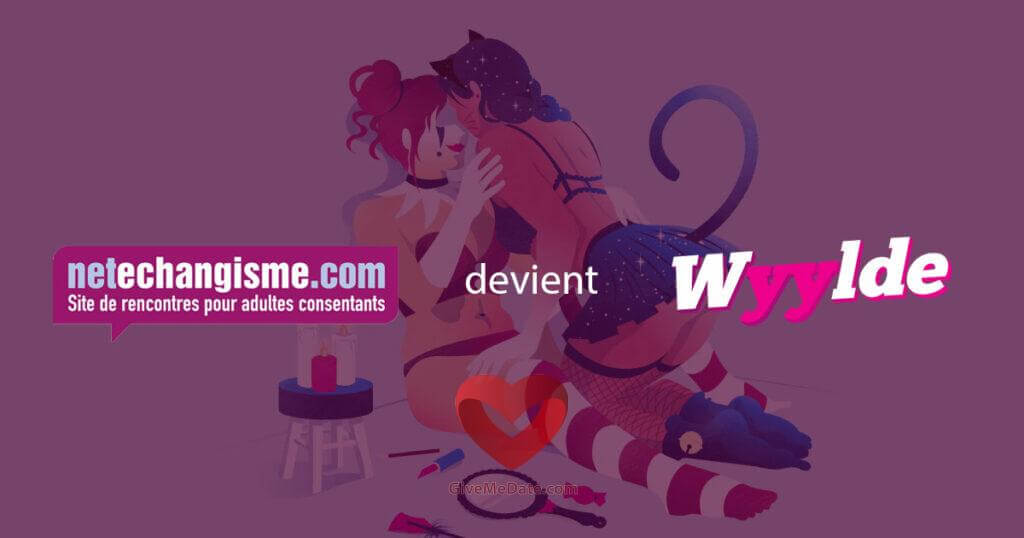 What kind of profiles will you be meeting?
Netechangisme is a dating site dedicated to libertines and lovers of naughty encounters. Although the majority of its members are men, single women have a good chance of finding partners for naughty encounters. The site offers a friendly atmosphere where humor is omnipresent, and members don't take themselves too seriously.. 
It's a real libertine social network where disrespectful behavior is quickly spotted and punished. So, if you're looking for love, this isn't the right place, but for libertine adventures, it's the ideal site!
But beware of fake accounts! I didn't come across any during my experience, but you never know!
How Wyylde differs from Netechangisme
Immerse yourself in a sea of novelties with Wyylde. If you're used to NetEchangisme's outdated design and lack of innovative features, prepare to be pleasantly surprised. With Wyylde, I guarantee you'll be amazed by the revamped user interface, designed for intuitive navigation. The site is now packed with new interactive features to facilitate meetings and exchanges. Imagine yourself enjoying an unforgettable evening of naughtiness, thanks to the "Events" function, which lets you organize and take part in online meetings.
Feel the difference with Wyylde. NetEchangisme tended to focus on sexual encounters and exchanges. Wyylde, however, has broadened its horizons to become a true community of people with common interests. Wyylde members are not only looking for erotic exchanges, but also for a genuine connection with like-minded people. In conclusion, it's undeniable that the transition from NetEchangisme to Wyylde has led to an exponential development of possibilities, transforming a simple dating site into a genuine community platform, a space for exchange and discovery. Ready for a new experience with Wyylde?
Sites similar to NetEchangisme

Here is a table summarizing the libertine sites that compete with NetEchangisme and their characteristics:
| | | | | |
| --- | --- | --- | --- | --- |
| Libertine Site | Visitors per month | Registered | Free registration | Subscription from |
| JM Date | 6,2M | 1,4M | Yes | 1.94 per month |
| We liberate | 3,8M | 2,5M | Yes | 8.90 per month |
| Place libertine | 600 000 | 2M | Yes | 7.45 per month |
Conclusion
In this article, I've had the opportunity to introduce you to NetEchangisme, a libertine site that has made its mark with its innovative features.
Afterwards, I talked to you about Wyylde, the new version of this site, which is now positioned as a booming libertine social network.. I have also given my opinion on this site in another article.
Finally, I'd like to introduce you to some of NetEchangisme's alternatives and competitors. However, as we've seen, their functionalities are often more limited and their communities less extensive.
To sum up, NetEchangisme/Wyylde stands out for its larger number of subscribers, making it a much more interesting social network in my eyes. Thanks to its modernity, innovative features and exclusive partnerships with libertine clubs, it is rightly positioned as the current market leader.
Frequently asked questions
Is registration on NetEchangisme free?
Yes, registration is free. However, you'll be limited in functionality and won't be able to interact properly with other users.
To solve this problem, several subscription offers are available. These offers are not free of charge.
What are the main features that distinguish NetEchangisme from other dating sites?
NetEchangisme, also known as Wyylde, is a dating site for people interested in libertarianism. This could set it apart from other, more traditional dating sites.
What types of subscriptions or paid options are available on NetEchangisme?
Subscription offers available are as follows:
- One-month subscription at €9.90
- Three-month subscription at €7.33 per month, i.e. €22
- 12-month subscription at €4.99 per month, or €59.90
Does NetEchangisme have a mobile application?
Unfortunately, NetEchangisme does not have a mobile application.
However, with its new Wyylde version, the mobile version of the website has been fully optimized for ease of use!
How do I report inappropriate or abusive behavior on NetEchangisme?
To report someone, follow these steps:
- In the conversation with the person you wish to report, press the flag in the top right-hand corner.
- Choose the motif and write more details about why you want to report it.
- To confirm, press " ".Report" .