Privacy is a major concern for many dating site users. On Meetic, there's a simple way to protect your anonymity: the Discretion. It's a great way to surf in complete peace, without leaving a trace. In this article, I'll explain how to activate it and surf anonymously.
Activate discretion mode on computer
If you browse Meetic via a computer, activating the Discretion mode is child's play.
Look for theghost icon named "Incognito" at the top right of the page.
Click on it, then click on "I buy an incognito".
Select the desired duration: 24 heures for 1,99€ or 1 month for 9,99€.
Once you've activated this mode, you'll be able to consult profiles without leaving any trace of your visit.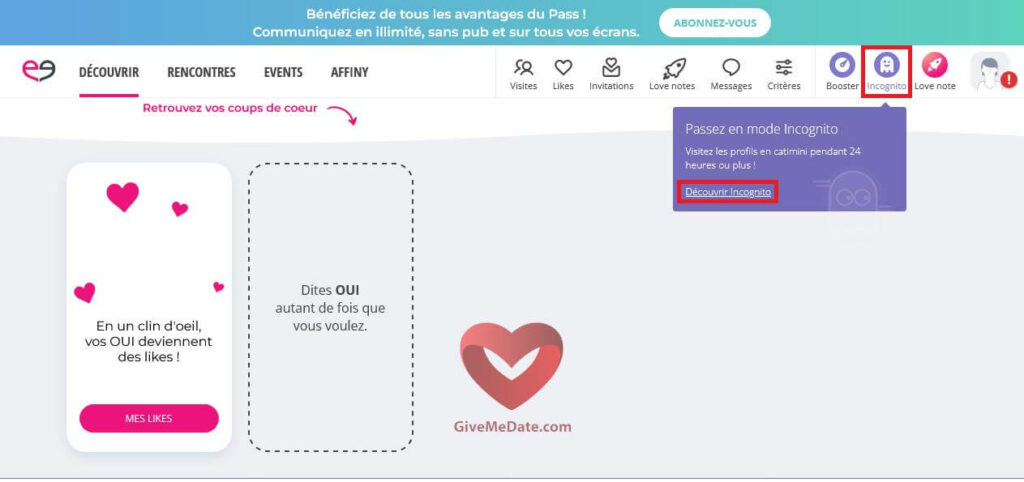 Activating discretion mode on cell phones
For those of you who prefer to use Meetic via the mobile application, here are the steps to follow:
Open the application and go to the Me.
Look for the Pass Discreet.
Click to activate Discretion mode.
Points to consider
Although the Discretion mode offers anonymity when consulting profiles, there is a counterpart to be aware of: when it is activated, you cannot see who has viewed your profile. That's the price you pay for remaining incognito.
The benefits of discreet profile consulting!
Meetic's incognito mode offers several notable advantages. The most obvious is the ability to consult profiles discreetly.. In this way, we can explore other users' profiles without them being alerted to our potential interest.
In fact, repeated visits to a profile can alert the user, leading them to believe that we're interested, whereas sometimes simple curiosity is the driving force behind these visits.
Beyond this functionality, the advantage is also that you can remain discreet. Imagine that friends, colleagues or even relatives are registered on the site: thanks to this mode, they'll never know that you've glanced at their profile. An ideal way to guarantee confidentiality!
Ready to play spy?
Protecting your privacy is essential, especially on online dating platforms. The Discretion from Meetic is an excellent feature for those who want to explore discreetly. Remember, whatever you choose, always keep your security and privacy in mind. After all, safety and comfort should always come first.