If you decide to suspend your Meetic account, it will be inaccessible for the chosen period. You will still be registered on the site and your personal information will be kept during this period.
How do I suspend my account on Meetic?
If you're ready to take a break from dating and temporarily suspend your Meetic account, here's how:
Connect to the mobile version of the site,
Navigate to the "Settings" section under the "Me" universe.
Then click on "Suspend my profile".
If you are using a computer:
Go to the "My account" section,
Click on "Support",
Then select "Hide my profile".
Once you have confirmed your decision, your profile will no longer be visible to other users.
Why suspend an account?
Dating apps and websites can be great resources for meeting new people and finding potential partners. However, it is important to remember that they are only one part of the dating equation.
Taking a break from these platforms from time to time allows you to concentrate on strengthening ties with those who are already part of your life, such as friends and family members. It also gives you the opportunity to get back in touch with your own desires and needs, rather than constantly seeking validation through the immediate gratification of online dating.
Suspending your profile is the ideal solution for a temporary break. It allows you to temporarily hide your profile and retain access to all your information and contacts.
How can I reactivate my account after it has been suspended?
Bear in mind that suspending your profile is not the same as deleting it. If you choose to reactivate it at a later date, all your information will still be present.
Simply log in with your credentials on the Meetic homepage and you will be asked to confirm that you wish to reactivate your profile.
How do I delete a Meetic account?
It may be time to turn the page and end your journey with Meetic. Whether it's because you've found your significant other, want to take a break or are simply ready to explore new horizons, I'm here to guide you through the process. In this article, I'll show you how to delete your Meetic account, step by step. Let's get started!
Deletion on computer
Perhaps you mainly use Meetic on your computer. If so, here are the steps to follow:
Log on to to your Meetic account using your login and password.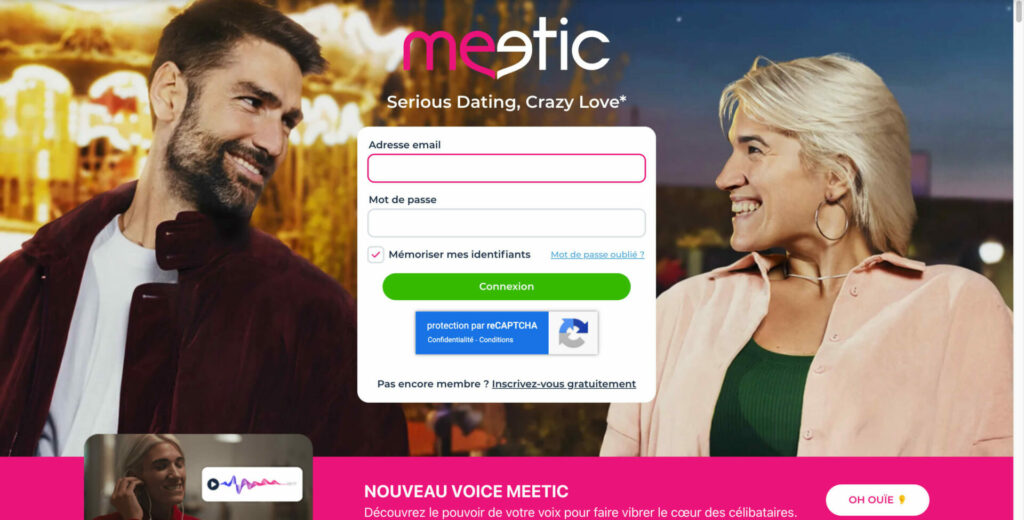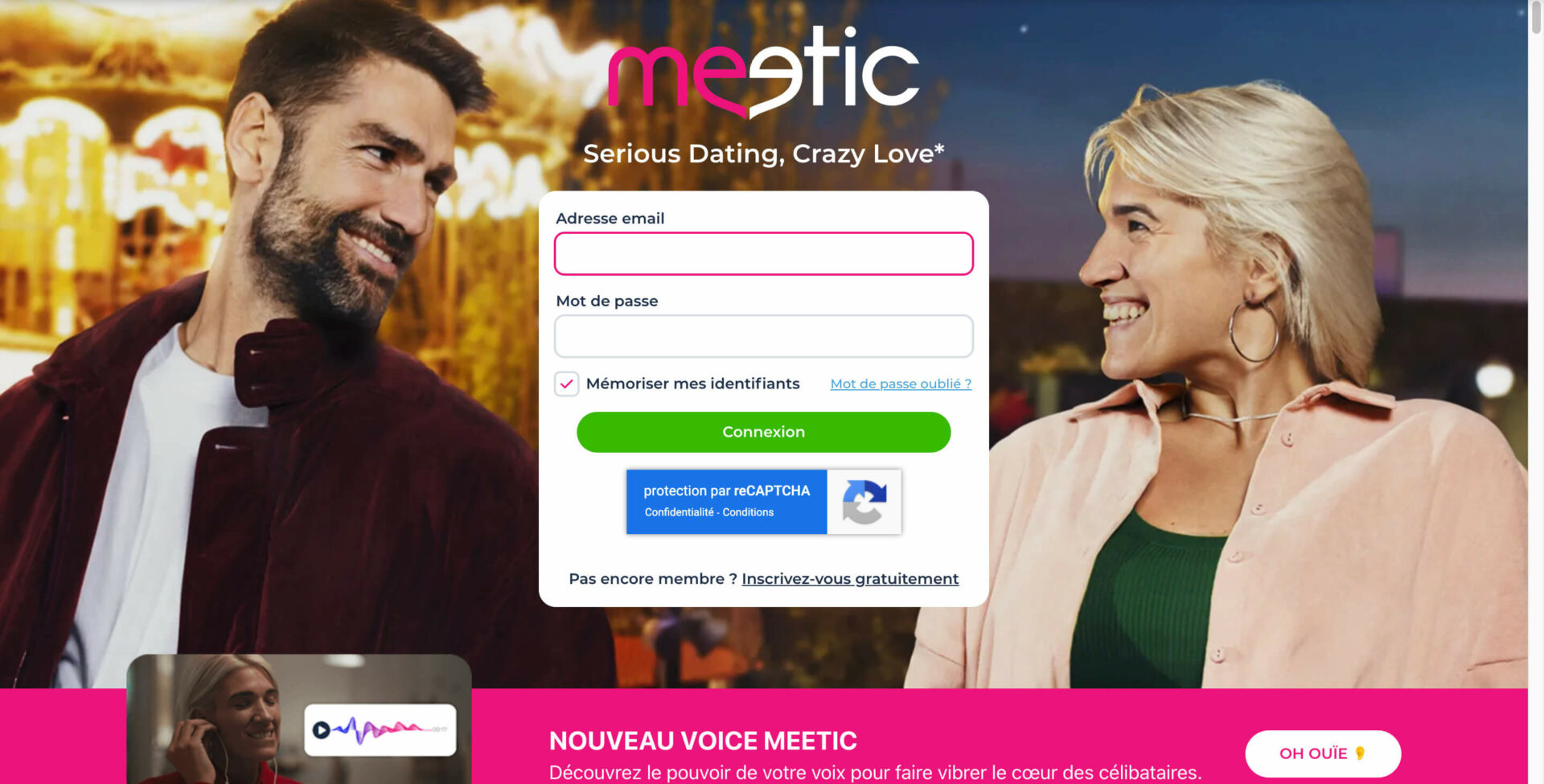 Head for the account settings. To do this, click on the "My Account.
Once in Settings, search for and choose the option "Delete my profile.
You will be asked to confirm this action by entering your e-mail address. Click on the corresponding link to complete the deletion.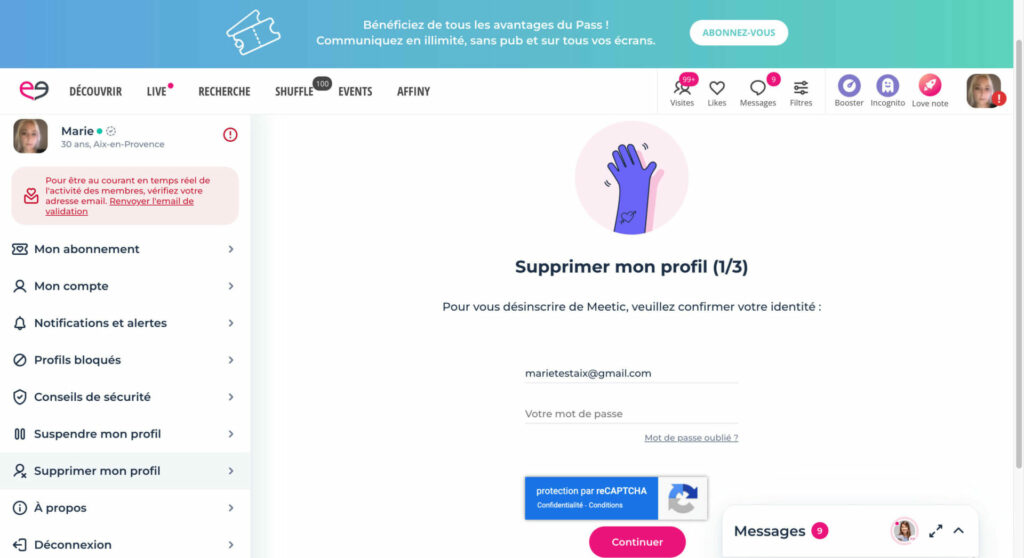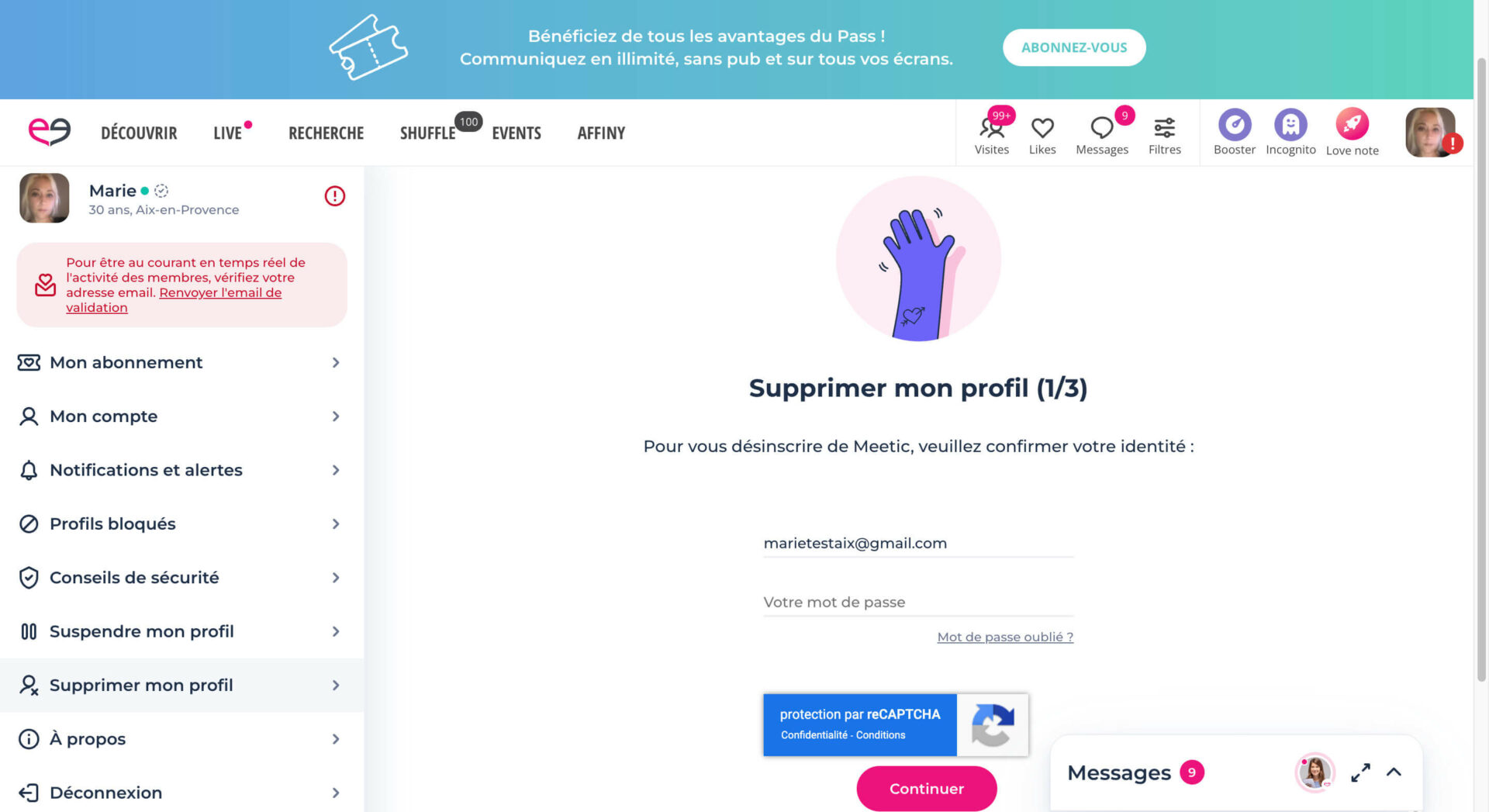 Wait 24 heures to make the deletion definitively effective.
A crucial point: if you have taken out a subscription with direct debitsTo avoid unexpected charges, be sure to cancel these future payments.
Deletion on mobile and application
For those of you who mainly use Meetic on mobile, there's an important nuance to be aware of. It's unfortunate, the Meetic mobile application does not allow you to delete or suspend your account directly. You'll need a computer to perform this operation. It's an extra step, but an essential one.
Deleting a Meetic account: good or bad idea?
Before you leave, ask yourself: is this really what you want? Deleting your account means saying goodbye to all the memories, conversations and connections you've had on the platform. If you're not quite ready to make this final decision, you can suspend your account. This will allow you to keep your conversations and profile information for future reference.
Whatever you decide, remember that every ending is a new beginning. And who knows? Maybe a new love affair is just around the corner. Good luck to you!