Is Meetic a scam?
Our collaborator was able to test Meetic for you, and was thus able to collect real user opinions.
In our opinion, Meetic is an easy to use platform, with a lot of profiles, all very different from each other. Most of the men prefer to have a minimum of conversations in messages first, to make a meeting very quickly with the targeted person. This meeting will be decisive, in order to notice or not a chemistry. Meetic will then be a discussion platform to perhaps establish a beginning of romance. Everything will depend on the chemistry with your partner.
According to the users with whom we were able to discuss, most of the time men are not very happy with the result, find that women are too indecisive and changeable, just as she thinks so too. Once again, Meetic is only a platform to "provoke" the meeting, but not the rest of the relationship.
Testimonial and user/consumer opinion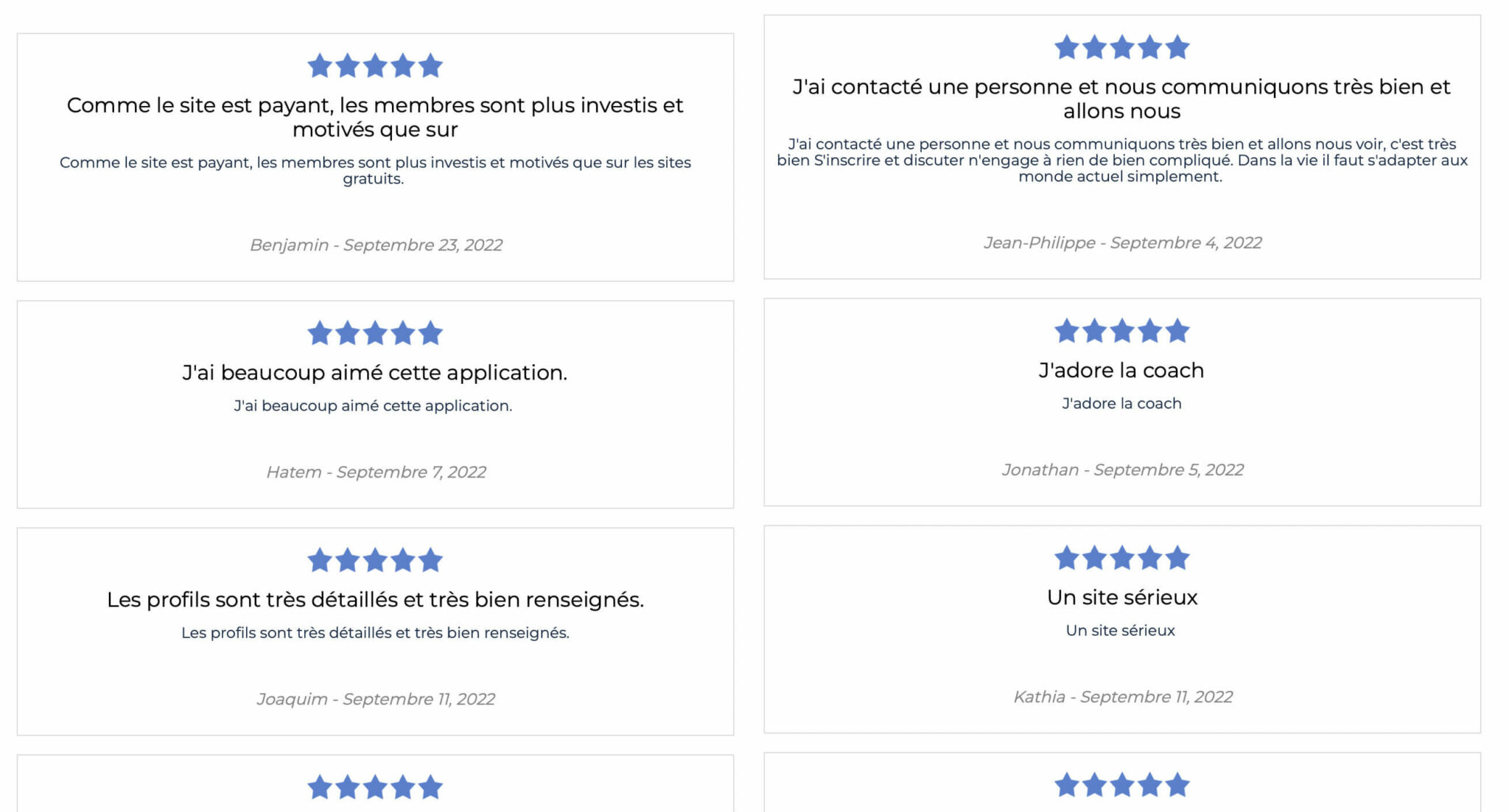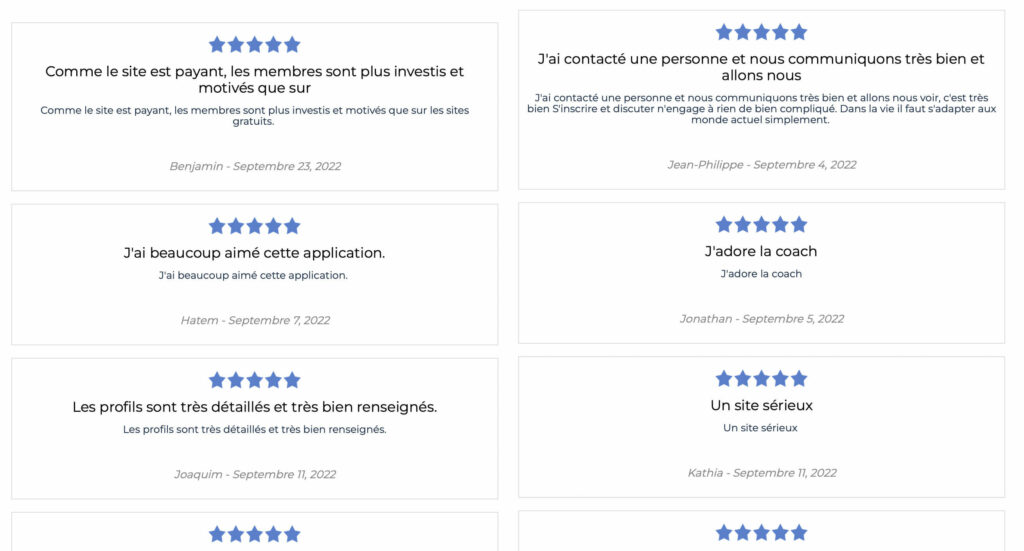 Source: https://www.meetic.fr/p/avis-meetic/
Forum
 "I have decided to give up dating sites. It is indeed tiring: for women, it is an overdose of messages of all kinds and for men, it is a desert. On both sides, it doesn't benefit anyone.
The best thing is still to meet people in the real world and the good news is that you can meet people everywhere, whether it's at sports, volunteering, the library, traveling... The other good news is that you won't have to do anything, because guys will take care of picking you up 😄 (no, I'm just kidding. Take the lead if you're interested in a man).
Be careful, however, that the desire to date does not become an obsession. If it becomes your main motivation in life, there's a problem, and manipulators are very good at spotting women who are desperate to get into a relationship." - WILL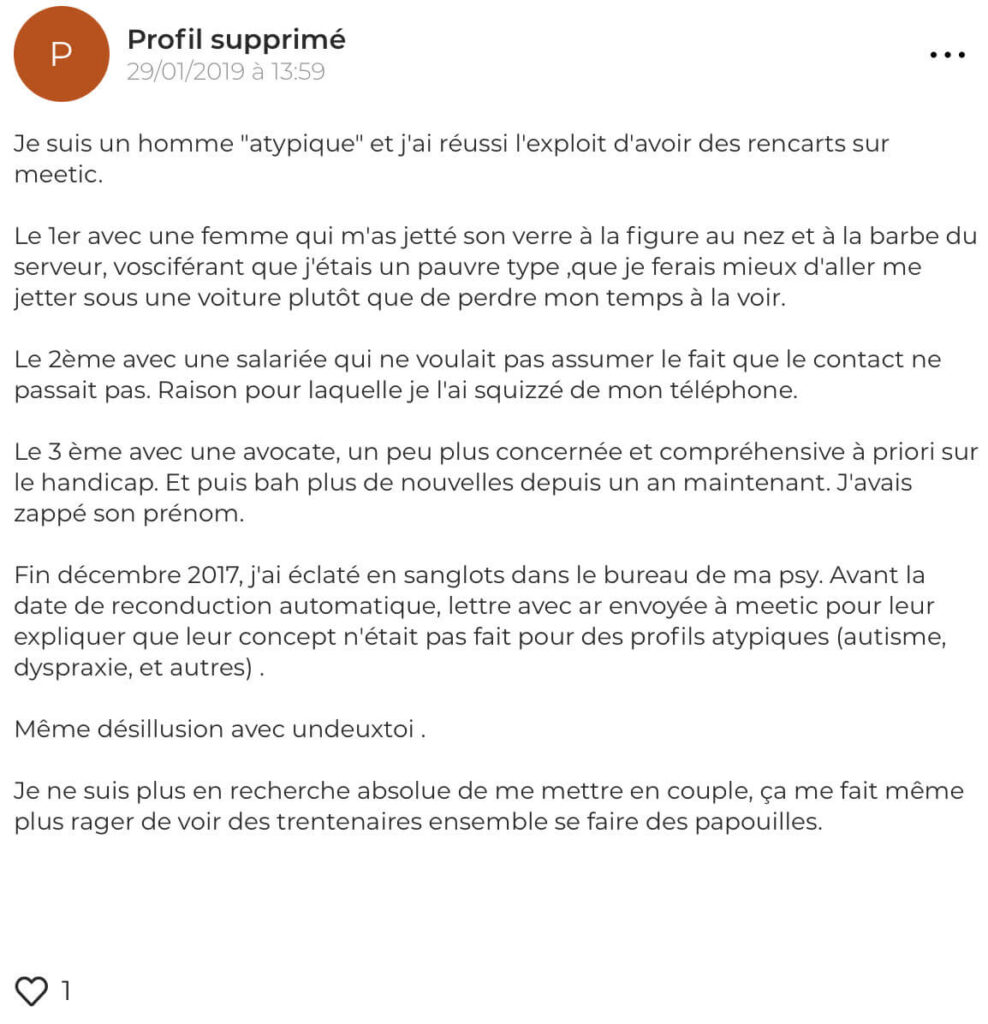 Source: https://forum.doctissimo.fr
Trustpilot
"Lots of profiles to sort through... And who are not always in the area... The presentation and use of the site is quite serious and comprehensive." - STELLA
"From worse to worse ... old beautiful who want Barbie dolls ... gentlemen be realistic you age and we also a little good it sense ... a site to flee permanently .... That of the plans Q. " -CLAIRE
"The best dating site I know of. It will just need some minor tweaking for nearby members." - ENZO
"I send a lot of messages but get very few responses! It really makes you wonder if the registrants are looking . A bit disappointing.
Alas Many cheat in their description! Caution ⚠️⚠️⚠️." - ELIANE

Igraal



Sources: https://fr.igraal.com
Our opinion
Vanessa's opinion:
I created a profile, very quickly, I received dozens of messages from men. The first ones seemed to be automated by Meetic, but afterwards, I found real profiles, one of which had a good feeling, we talked daily and little by little we got to know each other. Thanks to the voice function of Meetic, I could hear his voice and his convictions, that pushed my curiosity and I wanted to know him. Most of the time, men will send you "diskettes" as the young people say, catchy phrases to flirt with the one who has attracted his eyes. Most of the time, it will be a copy and paste sentence that they will send to all the women. So ladies, do not fall for it!!! A personalized message, shows his interest in you.
Let's go back to my crush, charming, gentleman, conversational, with a good spelling, humor, kind, ... all the qualities that a woman is looking for. After 2 weeks of conversations, this one started to answer me less regularly, our conversations lasted only a few messages, the feeling was very quickly lost.
This is the harsh reality of dating sites, maybe he found someone else, or maybe he already had a lot of conversations with other women. So I would advise you to protect yourself emotionally, before you have feelings for someone. Take the time to create memories with the person, to get to know him/her, before jumping into a "relationship".
Testimony of a bad encounter or experience: should we be wary?
Scam of feelings / artificial romance
"He was part of a sect", Chantal, 43 years old
"On Meetic, Eric's ad was quite ordinary, and the man was not unpleasant to look at. So we met at the terrace of a café to get to know each other. Except that after five minutes, he started to talk about his "philosophy of life", "mysticism" and so on... Clearly, he was part of a cult. I listened to him politely, but all I wanted to do was to run away. Luckily, we were in a public place!"
Sources: https://www.femmeactuelle.fr
"She came to my house", Thierry, 40 years old
"I met Clara on Meetic: after a few minutes of discussion, I realized that she was not my type at all, and I politely turned her down. But she didn't stop there: a few weeks later, she came to my place. In fact, she had printed my profile picture, made the trip to my little village and asked all the shopkeepers for my address. I was furious: I sent her home without even listening to what she had to say."
Hélène, 46 years old: "Thanks for the question at breakfast..."
So I'm dating a guy I met on Meetic. I'm not necessarily into it, but the relationship lasts for two weeks and it's nice. I sleep for the first time at his place when, in the morning at breakfast, while I prepare the coffee, he throws me : "So without a pipe in the morning, it's not going to work!". It wasn't humor...and so it didn't.
Nadya, 26 years old: "Maybe he was looking for a friend?"
"I should have known better. He had already cancelled twice. The third time is the charm, he said. So I get ready and go to wait for him "near the steps of the Town Hall". When he finally arrives, we go and sit down in the first bar nearby. He asks me what I think about Meetic and about apps in general. And then he shows me his phone, his matches on Tinder or whatever, tells me that he hesitated tonight between several dates... I'm totally hallucinating, especially since he's asking me for advice. Maybe he was looking for a friend? Or a marriage counselor?"
Sources: https://www.journaldesfemmes.fr
How do you define a bad experience?
Generally speaking, a bad experience is a situation where one of the people is in trouble.
But on Meetic, many relationships can end up in bad experience, a "relationship" whatever the nature of it is virtual on the internet, there will be no physical interaction, and conversations as such. One can easily fall into lying, and/or manipulation.
Many people say they want to find true love, but it is difficult on a dating site to stick to one person. The choice is far too diverse, and as humans, we are always looking for more than we have.
How to report a scam?
If you want to report a scam, Meetic has everything you need.
Login to your Meetic account
Click on the conversation or profile you wish to report
Click on the suspension points in the upper right corner
Then click on "Report/ I report this profile".
If you wish, you can file a complaint with the police or gendarmerie nearest you, or online, if you deem it necessary.
The Meetic team will then be available for any information.
https://www.pre-plainte-en-ligne.gouv.fr/
Conclusion
Opinions differ as far as Meetic reviews are concerned, one can come across anything and everything as far as virtual relationships are concerned.
We advise you to make up your own mind about the person you are interested in. Do not hesitate to meet in a public place for your first appointment.
It is always unfortunate to have a bad experience. But Meetic does everything in its power to listen to you, and delete profiles that do not respect the general conditions and the Meetic trust charter.