You receive emails from Meetic when you have already found your other half? Vou have deleted your profile and you don't understand why you still have contacts from Meetic?
In this article we give you solutions on how to stop receiving these emails in your inbox.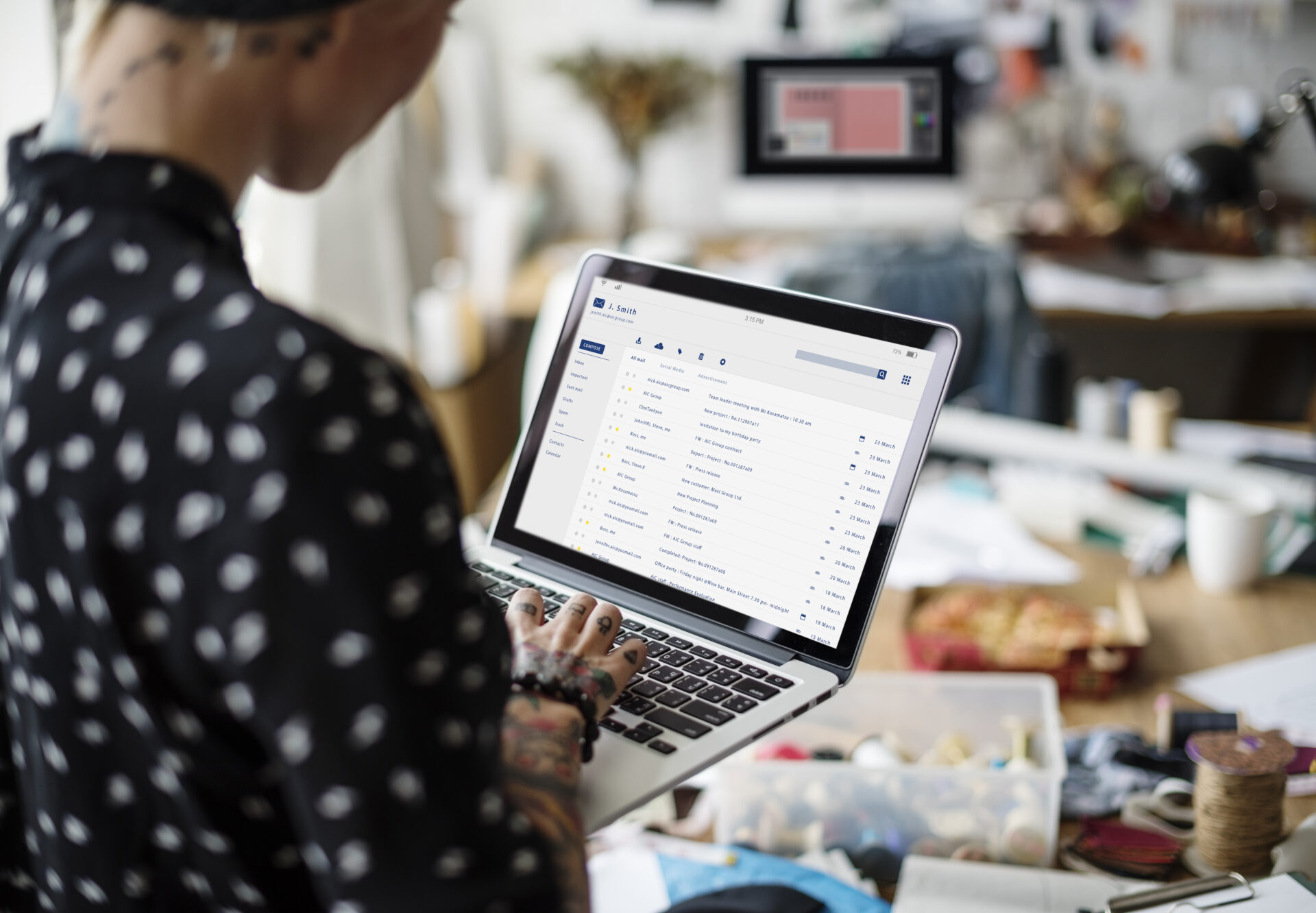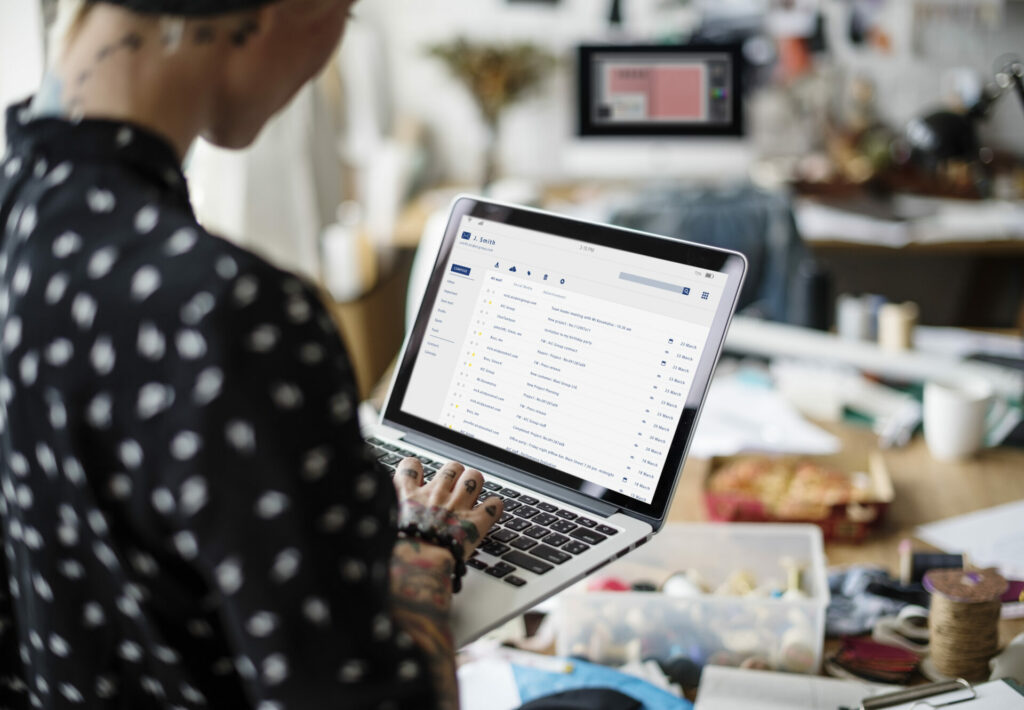 Why am I receiving emails from the dating site Meetic?
There are several reasons why you may be receiving these emails:
You have agreed to receive notifications when you register on the site
Someone signed up for Meetic using your e-mail
You forgot to suspend your account or to unsubscribe from the platform
Notifications accepted upon registration
Indeed, Meetic's emails are usually sent to you, because you have accepted your registration to receive notifications (alerts, promotions, ...) via email.

These notifications will not stop even after you delete your account: you may receive advertising emails from the Meetic platform.

To stop receiving them, you will have to unsubscribe from these Meetic emails thanks to the link that is usually located at the very bottom of the email (in very small letters).
Do you receive emails from dating sites even though you are not registered?
This is normal, because Meetic keeps your information for their group like Affiny or Disons Demain.
They then use them to contact you again and canvass in the hope that you will sign up for their other platform and purchase a subscription.
If not, it means that you have filled in your e-mail address on other sites and that your information has been resold.
Remember to click on "Unsubscribe" at the bottom of any e-mail communication you receive.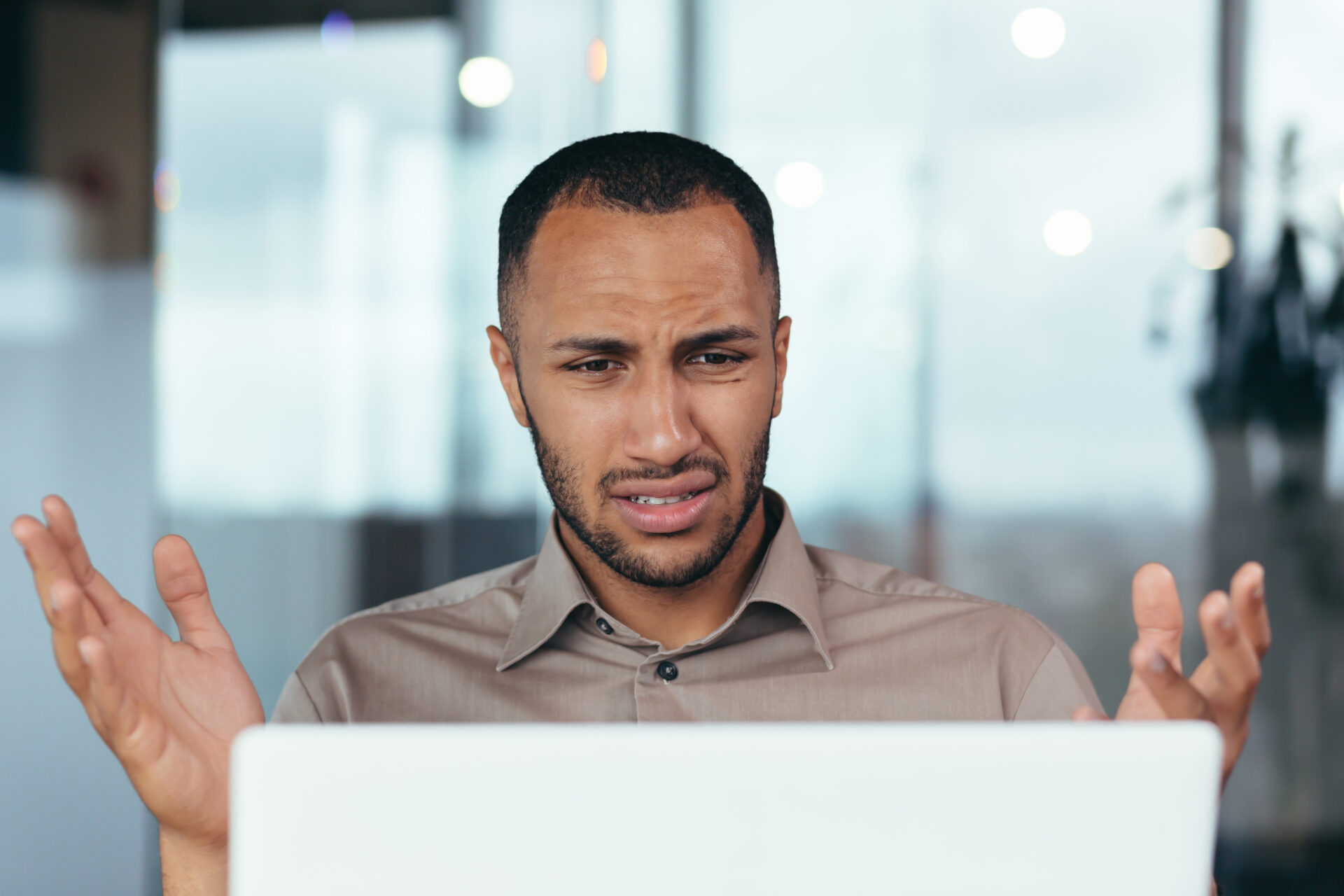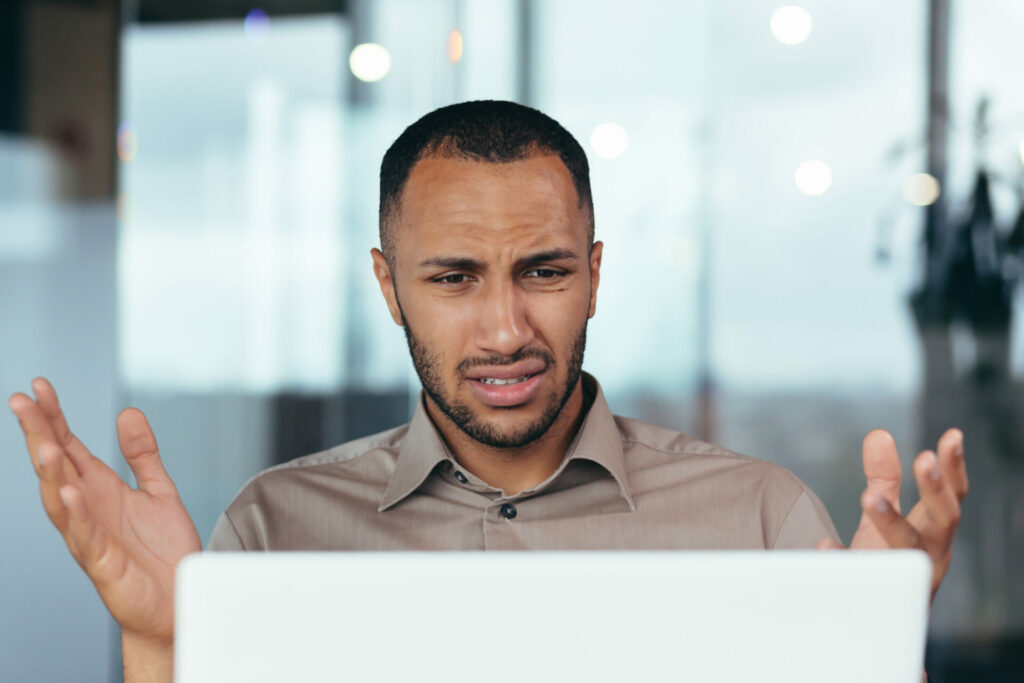 Someone has collected your information and is using it
It is possible that someone has impersonated you by signing up for Meetic using your email address.

If this is not the first time this has happened to you, we recommend that you contact the national police Info-strikes at 08 11 02 02 17 (price of a local call).
Online identity theft is an offence punishable by 2 years imprisonment and 60,000 euros in fines (according to article 323-1 of the penal code).
How to stop receiving emails from Meetic?
Now that we have seen why you are receiving these emails, let's see how you can stop receiving them by deactivating them or deleting your account.
Deactivate the sending of these emails, but keep my Meetic profile
To deactivate the sending of these emails, but keep your profile, it is possible to stop receiving these emails in 2 ways:
1. Unsubscribe from Meetic's email campaign: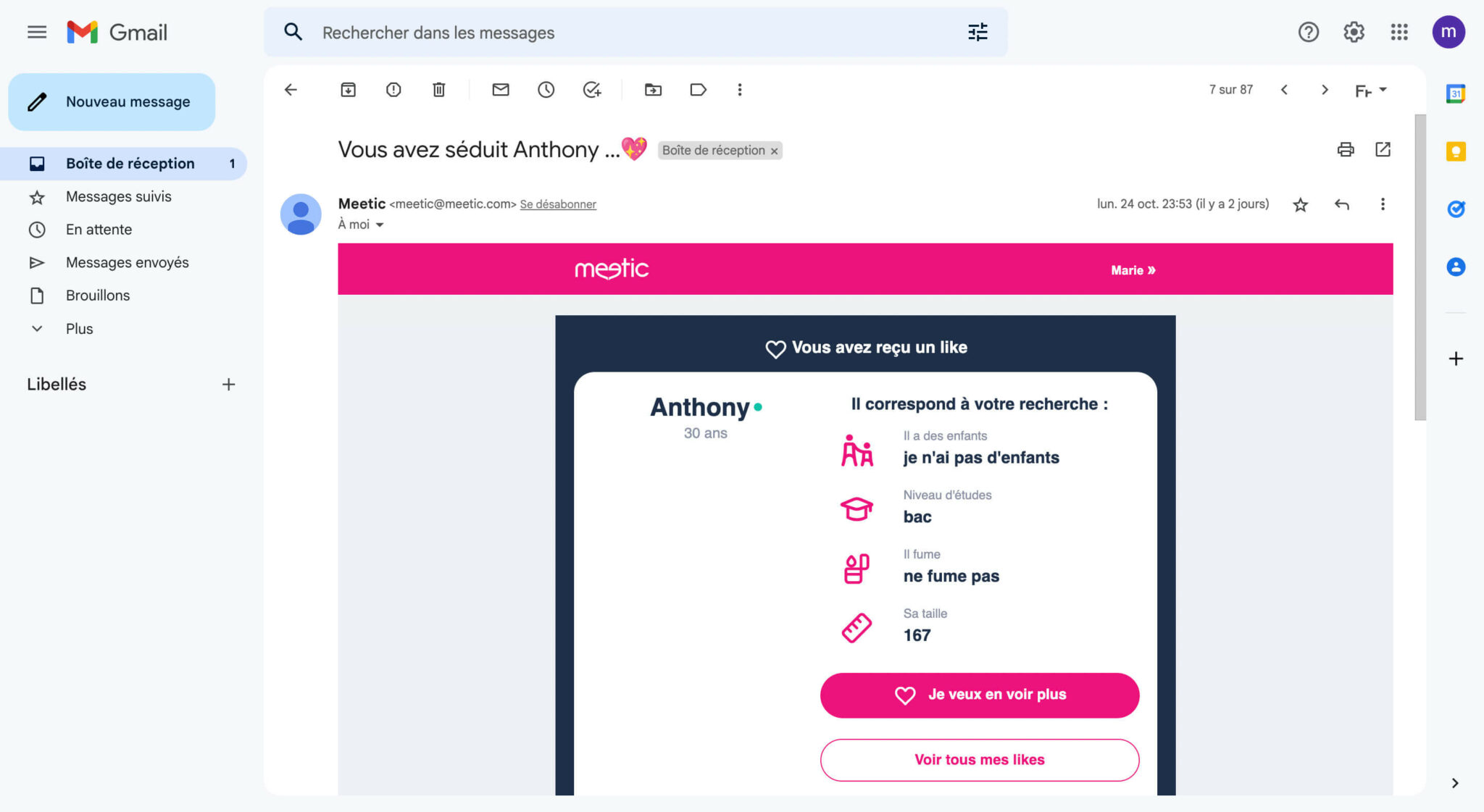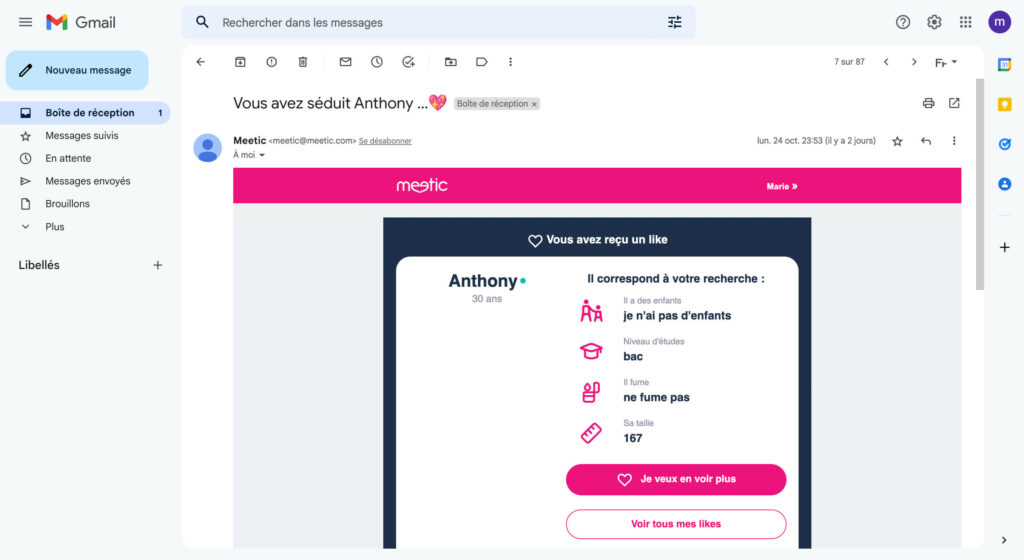 Open an email from Meetic
Click on unsubscribe next to the sender email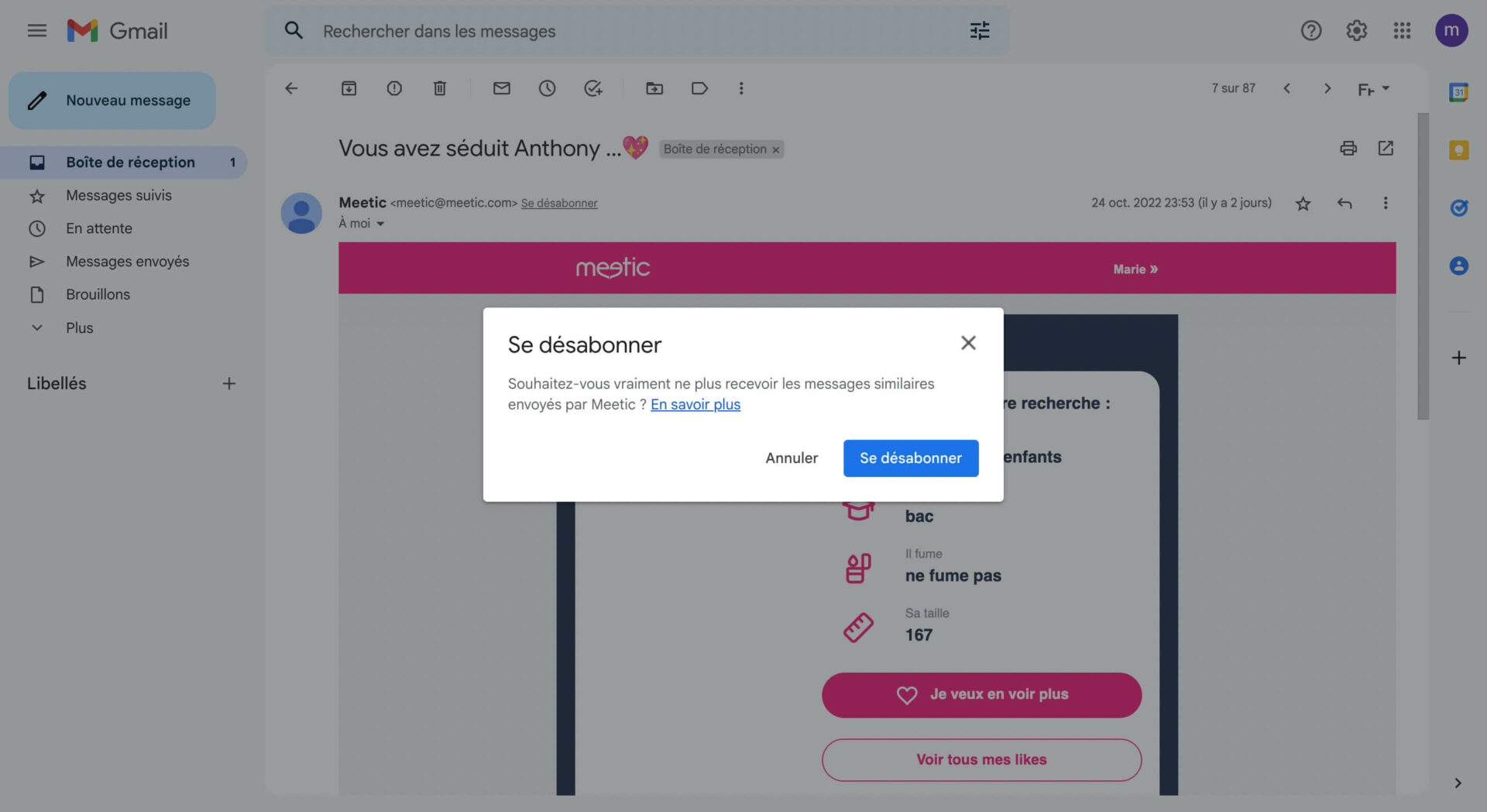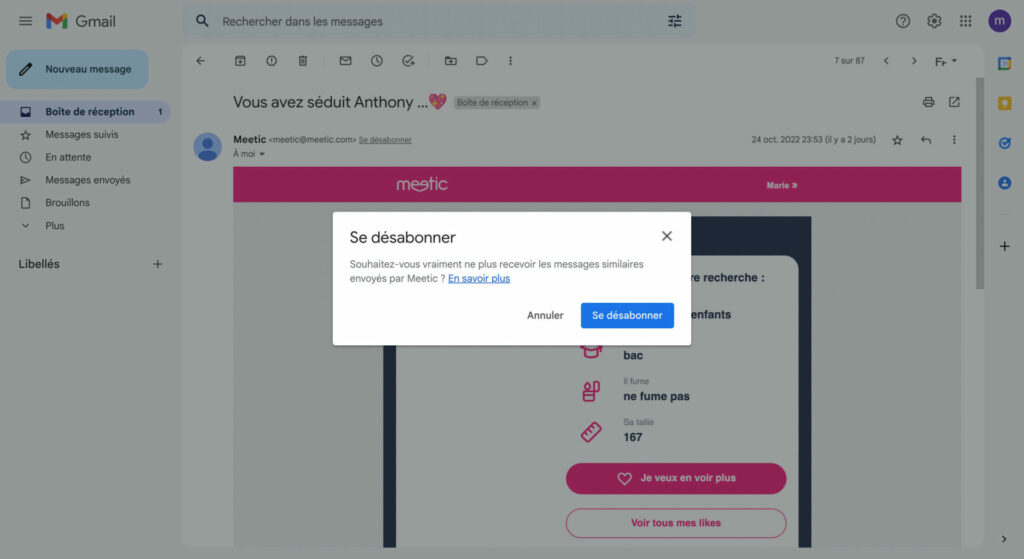 Click on the "Unsubscribe" link and confirm your unsubscription to emails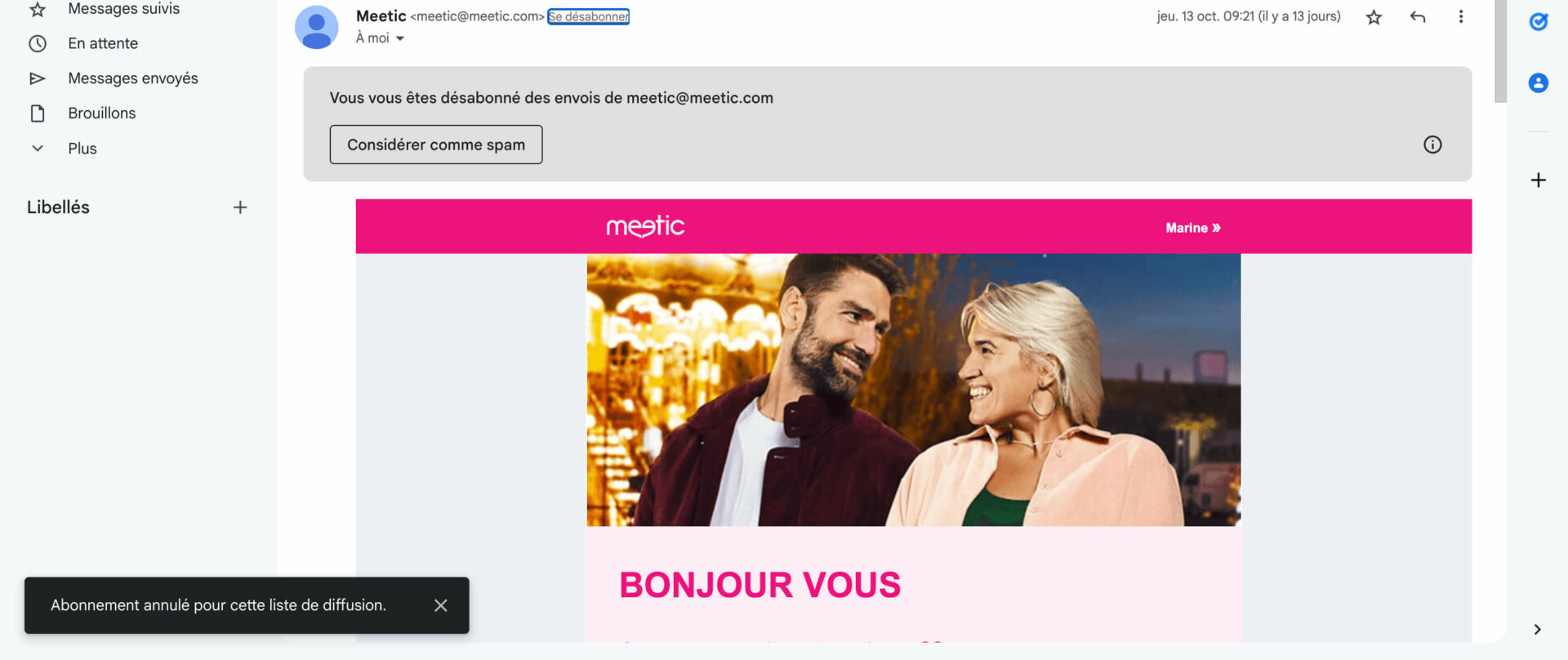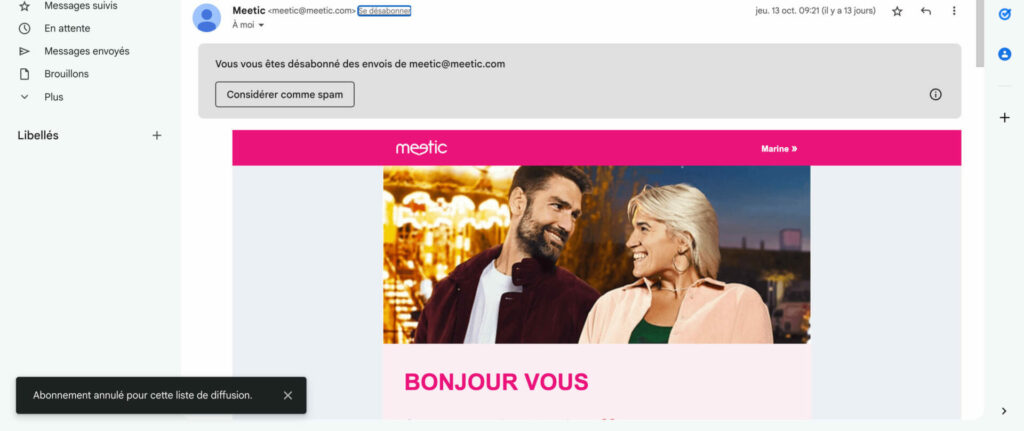 After clicking, you will receive a confirmation of this unsubscription with the following message: "You have unsubscribed from the [email protected] mailings"
2. Use a spam filter on your mailbox:
If the emails from Meetic show up as spam, you can use a spam filter on your email account as follows: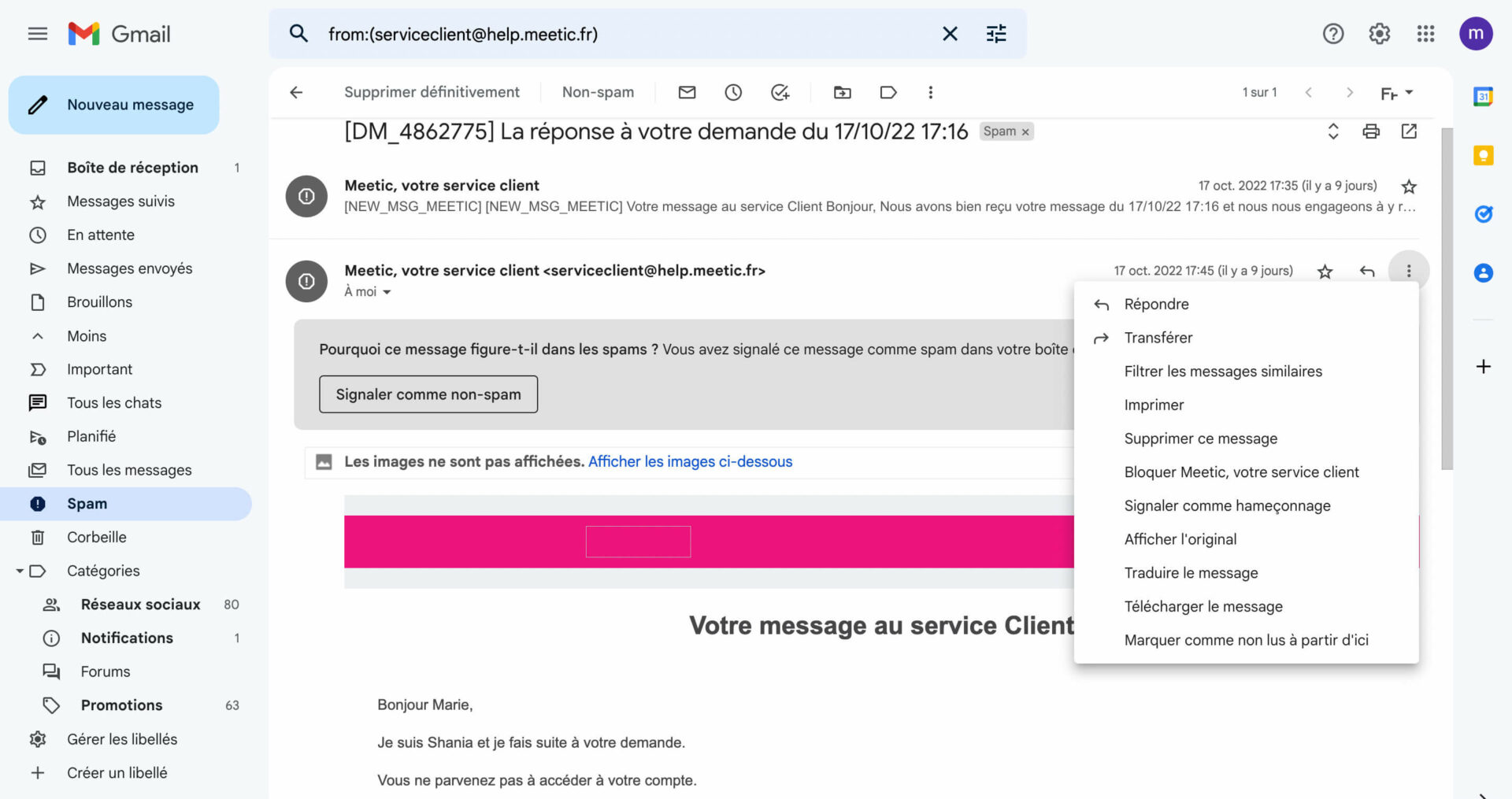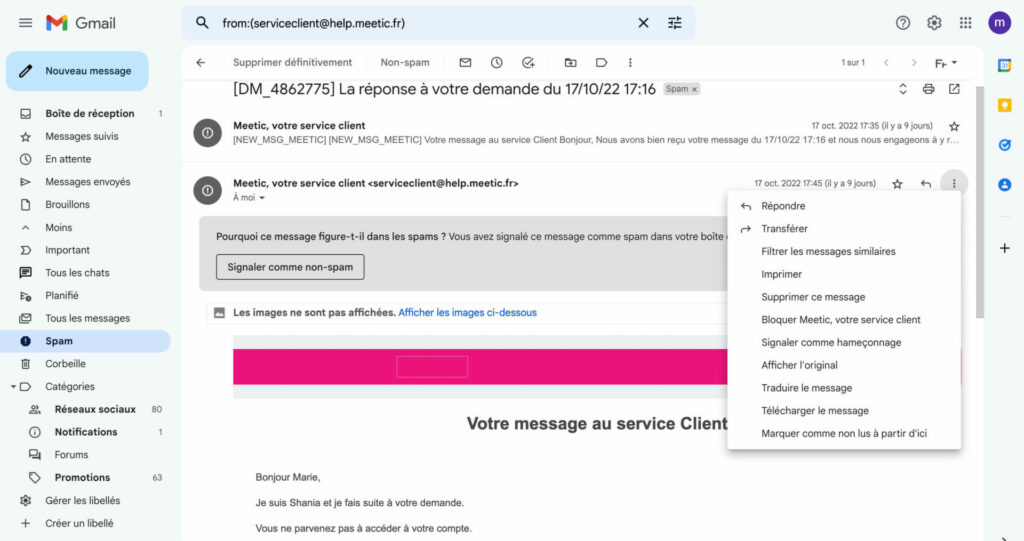 Open a spam mail from Meetic
Click on the three small dots at the top left of the email (plus)
Click on "Filter similar messages


Click on "Create a filter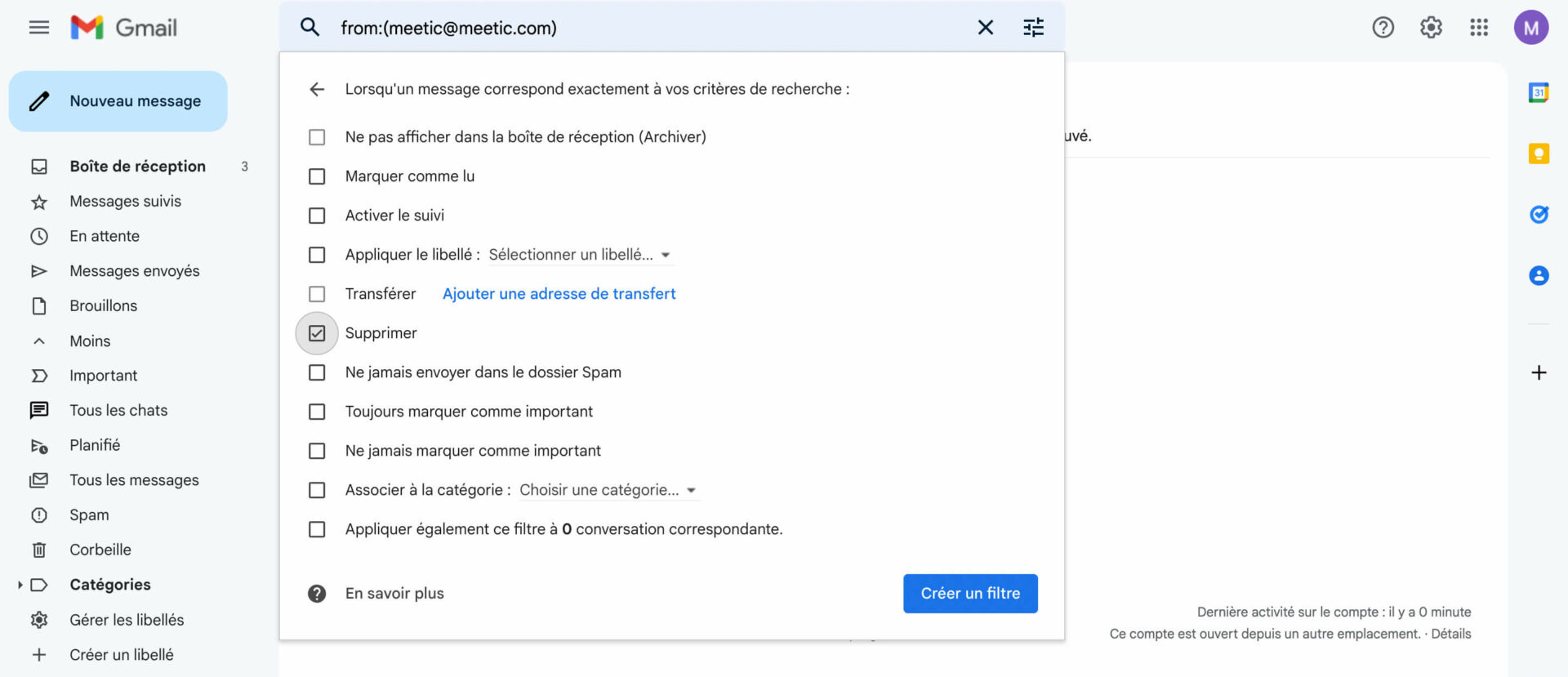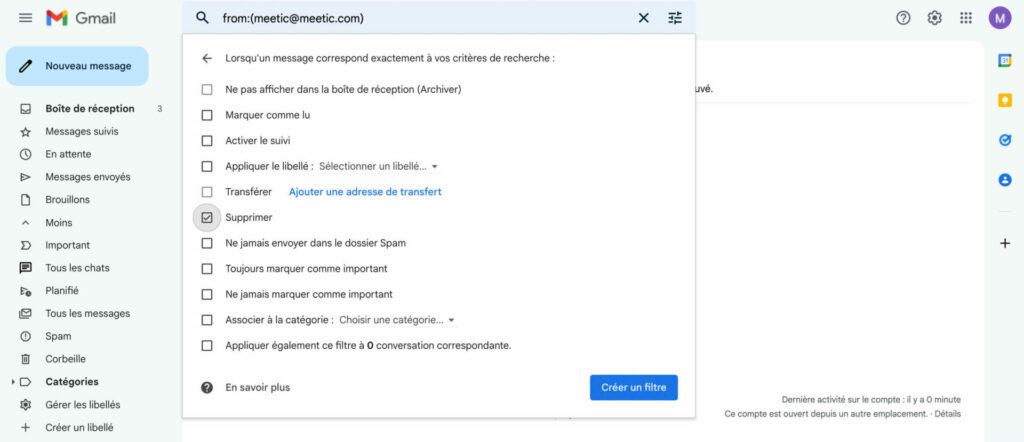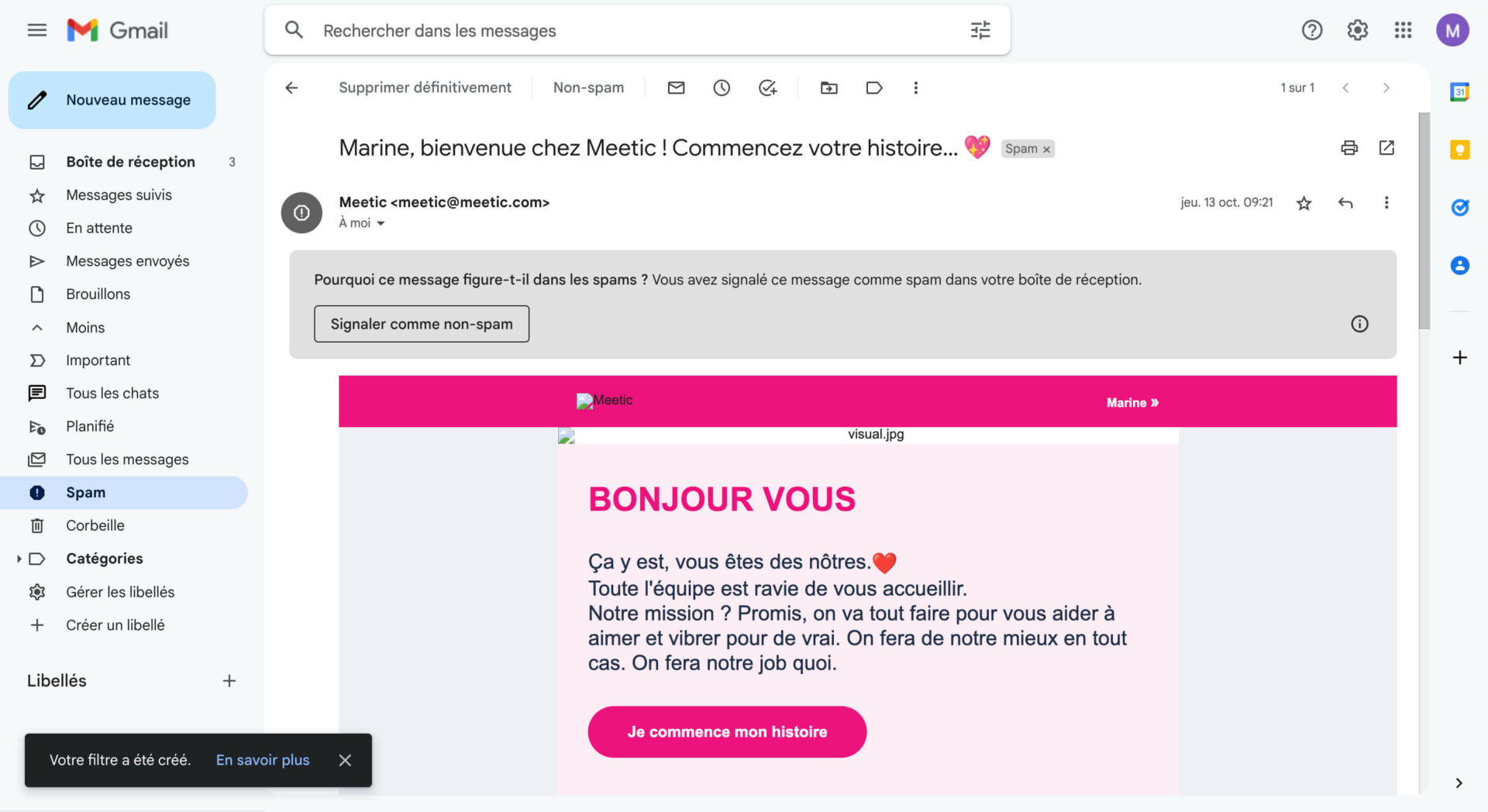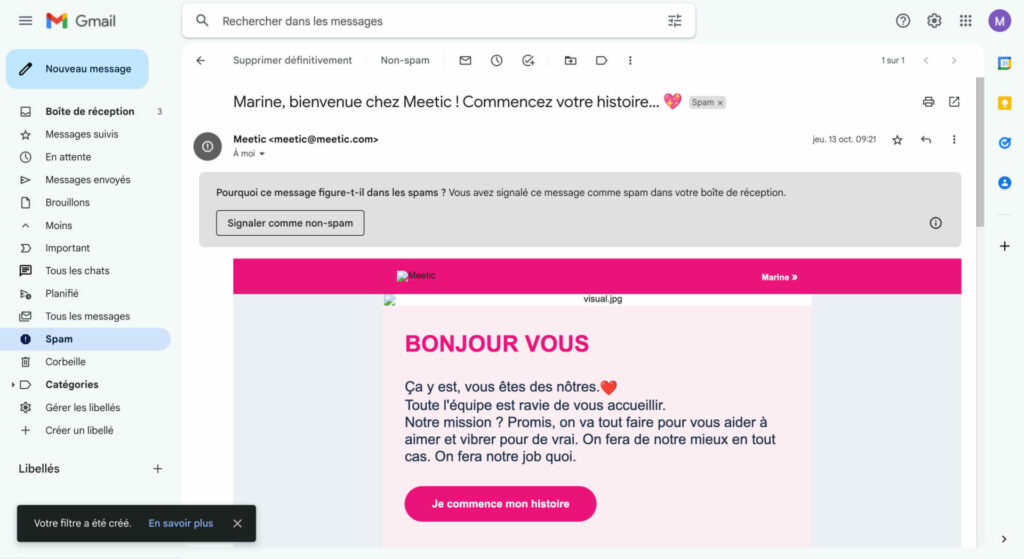 A confirmation message of your filter will be sent to you at the bottom left of your mailbox
This may be of interest to: How not to be seen when you are connected on Meetic?
Delete your Meetic profile to make sure you don't receive anything else
In order to stop receiving emails from Meetic, make sure your account/profile is deleted.
If you want to delete it, here are the steps to follow:
Log in to your Meetic account with your login and password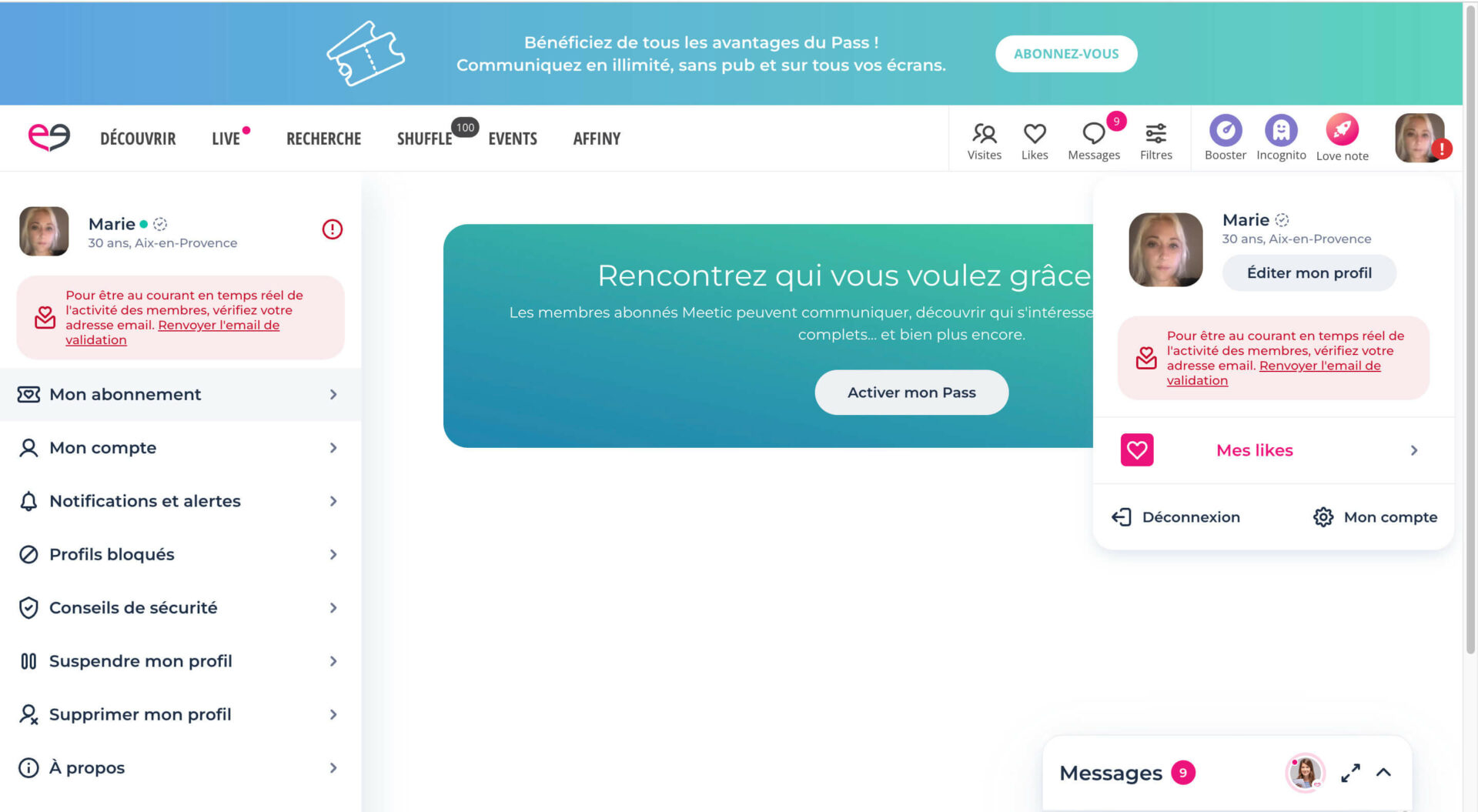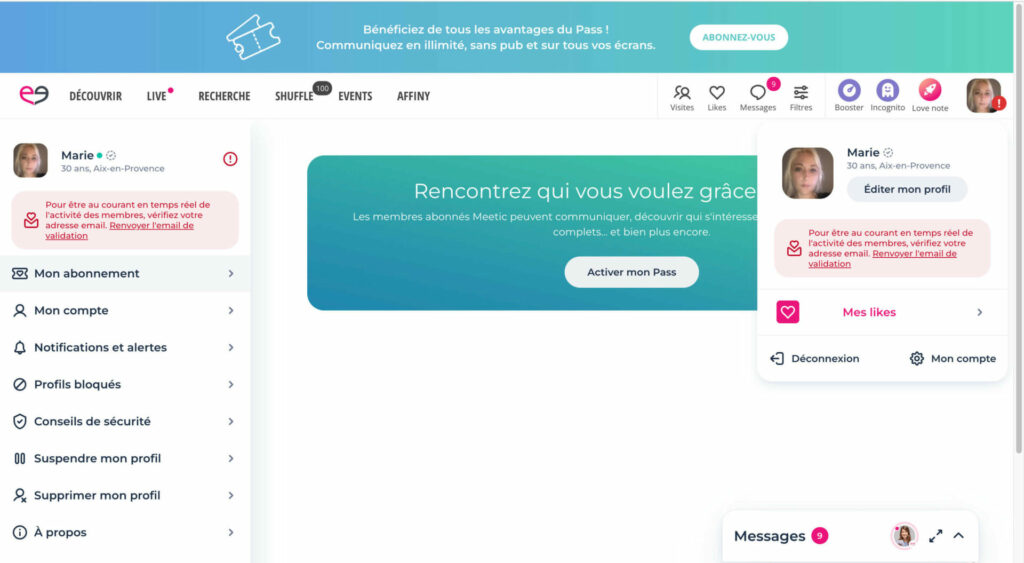 Click on your profile picture, then on the "My account" section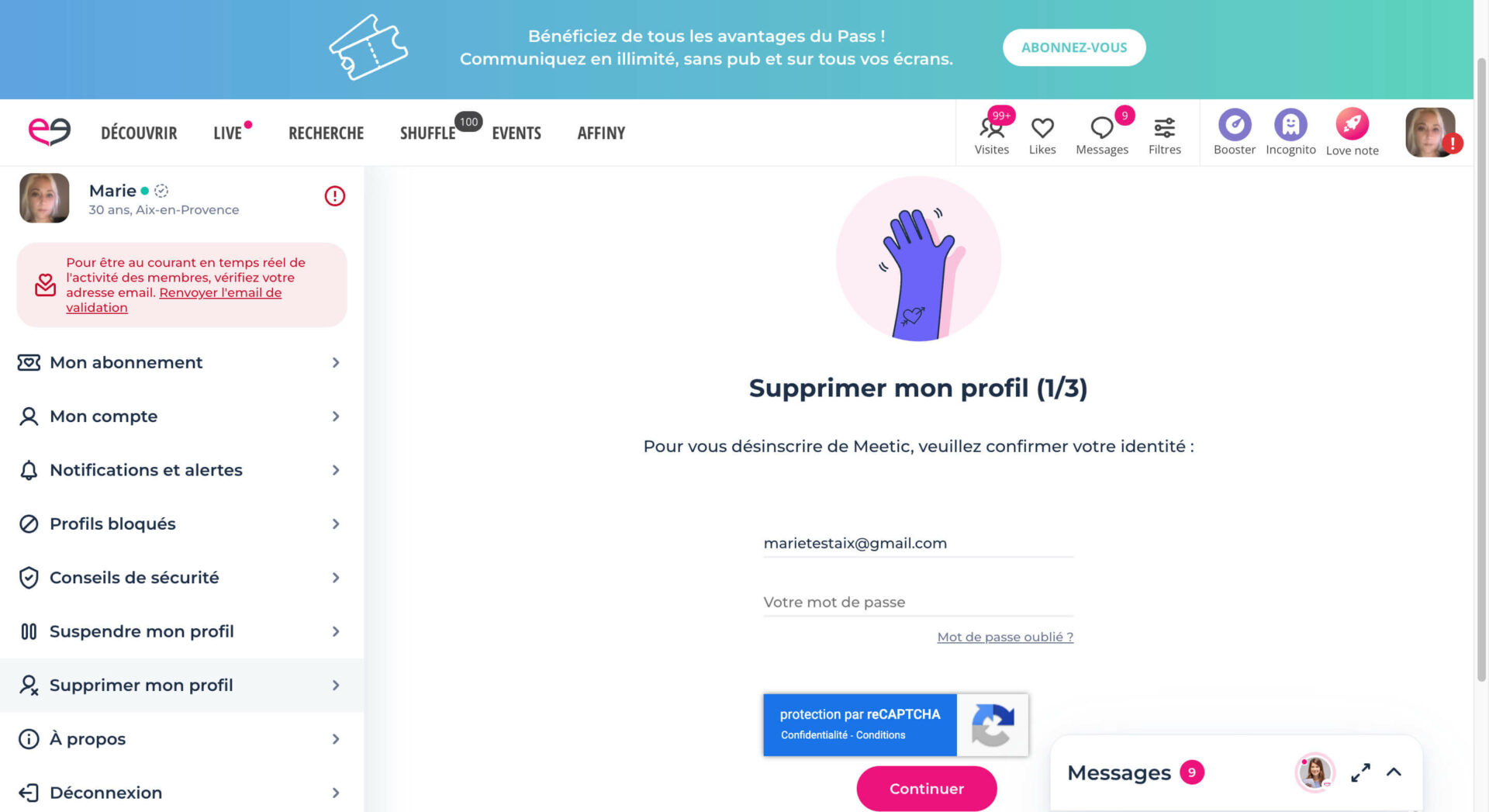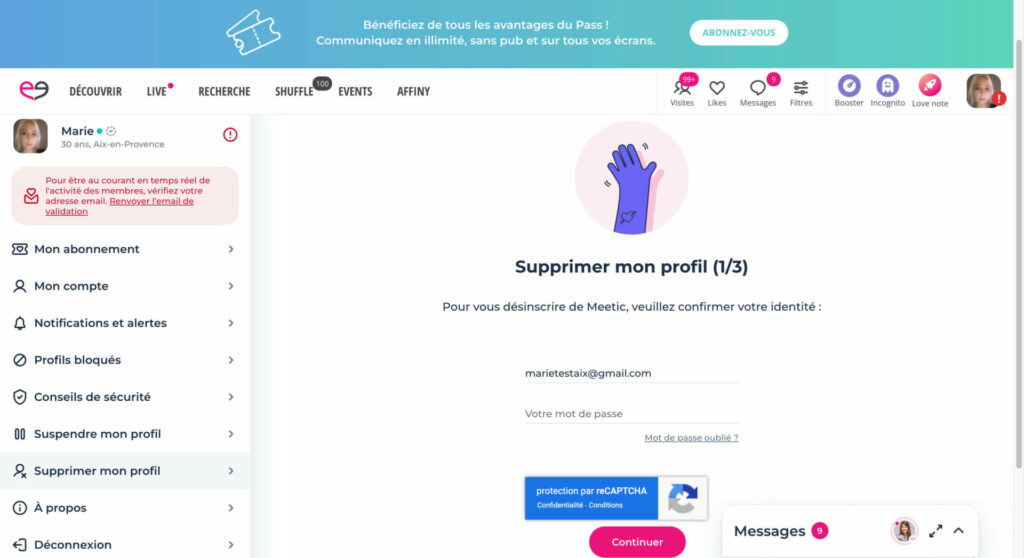 Click on the "Delete My Profile" section that appears on the left side of your screen on your computer.
You will then have to fill in your identity to delete your profile
An email confirming the deletion of your account will be sent to you
Stop receiving communications from Meetic: simple when you know how!
To continue to receive emails from Meetic when you have deleted your account or when you have found your other half is rather annoying.

To delete the sending of emails from Meetic, several solutions are available to you:
Unsubscribe from Meetic's advertising campaign on your email
Filter your spam by deleting it directly
Delete/suspend your profile
Now that you have applied all our tips, your inbox will thank us!